Volvo Penta Volvo OEM - SX - - 3 Blade 3855479 Aluminum Boat Propeller

Representative Prop Photo Only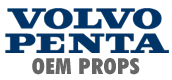 Propeller Specifications:
Part(s): #3855479
Manufacturer: Volvo Penta
Brand:Volvo OEM - SX - - 3 Blade
Material: Aluminum
Diameter: 15 - 1/2
Pitch: 15
Blades: 3
Rotation:

Counter (Counter-Clockwise)
Usually Ships Within: Business Day
Comparison Shopping:
View Related Boat Propellers
About Volvo Penta Boat Propellers
Volvo OEM - SX - - 3 Blade Aluminum Boat Propellers
The SX propeller is available in 3-blade bronze and stainless steel as well as 4-blade bronze.
The 3-blade SX is perfect for the standard installation and the stainless propeller being the perfect choice for high speeds.
The 4-blade SX propeller is the perfect choice when acceleration and reaming planning at low revs are important.