Volvo Penta Volvo OEM 851138-8 Aluminum Boat Propeller

Representative Prop Photo Only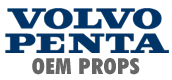 Propeller Specifications:
Part(s): #851138-8
Manufacturer: Volvo Penta
Brand:Volvo OEM
Material: Aluminum
Diameter: 14
Pitch: 21
Blades: 3
Rotation:

Counter (Counter-Clockwise)
Usually Ships Within: Business Day
Comparison Shopping:
View Related Boat Propellers
About Volvo Penta Boat Propellers
Volvo OEM Aluminum Boat Propellers
Genuine Volvo Penta propeller designed for Volvo/OMC SX Drives 1994 & newer.
Get the orignianl performance out of your motor with this OEM replacement prop.
It's perfect for the standard installation on single propeller drives.