Turning Point Hustler 21501911 Aluminum Boat Propeller

Representative Prop Photo Only

Propeller Specifications:
Part(s): #21501911
Manufacturer: Turning Point
Brand:Hustler
Material: Aluminum
Diameter: 14 - 1/4
Pitch: 19
Blades: 3
Rotation:

Standard (Clockwise)
Usually Ships Within: 1 Business Day
Comparison Shopping:
View Related Boat Propellers
Free Shipping!
Order now and save even more with NO shipping costs!

• UPS Ground shipping to lower 48 states only
• UPS does not ship to P.O. Boxes

Lifetime Hub Warranty!
Turning Point's unique hub kit design features a lifetime warranty
Prop Hub Kits engineered to withstand wear and tear without failure
Save more with the industry's only Hub Kit Warranty
About Turning Point Boat Propellers
Hustler Aluminum Boat Propellers
Stainless Steel Performance at Aluminum Prices
Stainless steel blade geometry used in aluminum propellers results in superior performance. Higher efficiency equals better fuel economy, better top end, faster hole shot, and excellent cornering and handling.
Tuned Vents for Fast Hole Shot
Vent holes in the propeller's barrel allow exhaust gases to escape, reducing water density around the propeller's blades during acceleration. This causes the propeller to rotate faster at slower speeds resulting in more horsepower. More horsepower at lower speeds means faster acceleration and a faster hole shot. Turning Point is the only manufacturer offering this race proven feature in our Hustler aluminum propellers on most models (selected models only 13" & 14" diameter 17+ Pitch).
Squeeze Cast for Added Strength
Turning Point's squeeze cast process generates the highest mechanical properties attainable in a cast product, resulting in tighter grain structures. Competitors use old Die Cast processes that results in a high blade flex and poor performance.
Performance Tuned Rake Angles
Higher rake angles tighten the vortex produced by the propellers, adding to boat lift and overall performance.
Improve Handling and Boat Lift
Through aggressive rake and cupping.
High Flow-Through Barrel Exhaust System
Maximizing exhaust flow increases horsepower and top end speed.
Tuned Progressive Pitch Angles
Accelerating and channeling water to minimize slip increases performance and fuel economy.
Long Lasting Powder Coated Finish
Turning Point's 5 step process creates a uniform, durable, high quality, and attractive finish that protects the aluminum from corrosion.
Turning Point Hub System
Lifetime Warranty Hub Kits
Turning Point utilizes high tech shock absorbing polymers and a solid brass spindle, the Turning Point hubs will not corrode or break like competing hubs, and are covered by an industry leading Lifetime Warranty. Each hub's one piece design ensures simple housing replacement, making a prop change quick and easy.
Eliminate Hub System Vibration and Chatter
Innovative one piece design reduces the number of parts and eliminates failures commonly seen in multi-part hub systems.
Eliminate Hub Cracking and Failure
The glass reinforced high-tech polymer construction increases flexibility, eliminating potential material stress fractures.
Corrosion Resistant Materials
Premium corrosion resistant brass splines.
Reduce Gear Shock and Engine/Drive Damage
Shock absorbing high-tech polymer cushion.
Easy to Install
Clear and easy step-by-step directions coupled with minimal parts makes installation easy.
Interchanges with other Manufacturers' Propellers
The 500 series Turning Point hubs upgrade and replace Mercury Flo-Torq II, Michigan Wheel XHS, and Solas Rubex hub kit systems.
| | | |
| --- | --- | --- |
| | | 77% (274) |
| | | 10% (38) |
| | | 4% (15) |
| | | 2% (8) |
| | | 5% (18) |
Scores shown are based on all Turning Point Hustler Aluminum propeller reviews.
Specific Reviews are reviews for this exact propeller part number.
Other Reviews are reviews for similar Turning Point Hustler Aluminum propellers.
Not all Turning Point Hustler Aluminum reviews may be shown on this page.
Click See All Reviews to view all Turning Point Hustler Aluminum propeller reviews
Specific Reviews

Reviews for Tp Hustler 3-Blade Aluminum 14-1/4x19 Standard Rotation Le-1419 - Hustler Aluminum

Propeller reviewed on

Oct 30th, 2020

prop camp with necessary hardware to install. works well on boat.


Propeller reviewed on

Jul 18th, 2018

1 out of 1 users found this review helpful

I was going to purchase exact match prop but rep recommended this one from Hustler. I feel like it lowered my top end speed a little but the bite and take off are noticeablely better. This prop is more teardrop shaped vs rounded fins. I had to modify the fin (grind it down). I wish the rep would have just advised me to buy a new one. The prop looks good and works good. I used an impact to take the nut off I recommend this as it is hard to hold.


Propeller reviewed on

Aug 5th, 2016

1 out of 1 users found this review helpful

My boat came with a 21" pitch prop. It had way more top end than I could ever use but wouldn't troll slow enough to fish. I replaced that prop with a 19" pitch prop (which I'd also done on a previous boat with great success). Other than having to grind a notch in the trim tab to allow for clearance for the additoinal 3/4" diameter of tne new prop, there were no issues. The whole swap including grinding the trim tab took less and 45 minutes. The boat now trolls beautifully at 2.5 knots, and jumps out of the "hole" when needed such as pulling a skier. I gave up 8 knots top end (40 knots down to 32 knots which is still plenty fast given I'm in the ocean), and at WOT it's still about 800 rpms under readline, VERY happy.


Propeller reviewed on

Sep 5th, 2015

Prop works great and performs well, price is fair and reasonable. Form and fit is perfect


Propeller reviewed on

Jul 30th, 2015

The prop was an OEM recommended replacement part for my boat and worked flawlessly. The price was so affordable I purchased another to have on hand so another floating log doesn't ruin another vacation.


Propeller reviewed on

Jul 12th, 2015

Just purchased this prop. It seems to be a well made, high quality prop, at a very good price...from iBoats. This is the second time I have purchased Boating items from iBoats, there prices are great, and the customer service people are too!!!


Propeller reviewed on

Jul 12th, 2015

Amazing prop for the money. My boat handles great now. I tested it several times yesterday, doing super tight figure 8s at full throttle and this prop never "blew out" once. Also, from a dead stop the boat just pops right up on plane now. Bayliner 175BR with a 3.OL and an Alpha drive.


Propeller reviewed on

Aug 6th, 2013

This prop, 1.25 x 19 is mounted on a Evinrude 130HP that is on a 1995 Four Winns Freedom 170. Out of the hole is quicker with more power to pull up a skier. High end speed increased 1 to 1.5 MPH as well. Reverse power/stopping has suffered a little. We have to carry slightly less speed towards the dock. Overall, it seems to be a winner. I am curious how our fuel mileage will be affected.

Other Reviews

More Turning Point Hustler Aluminum Propeller Reviews

Propeller reviewed on

Apr 10th, 2021

We use dual motors and this was installed on the SR motor. Our first acceleration to full throttle totally overrevved this motor. The other motor has the same diameter and pitch by another manufacture and was doing all the work. Very disappointed at throwing $130 away. No Return.


Propeller reviewed on

Apr 2nd, 2021

Once I figured out the hub, the prop installation was fine. I'm still waiting to try it out though. The weather has still been cold in East Central Indiana. This morning we had a near record cold for April 2nd. There was frost this morning on the ground. The 5 day outlook though is above normal. Won't be going out for a while, I'm two weeks out from shoulder surgery but looking forward to trying it out.


Propeller reviewed on

Feb 9th, 2021

Ordered a new prop from a local store and it was wrong!! Went to I boats and ordered the correct prop, got it in 2 days perfect fit great price!


Propeller reviewed on

Dec 20th, 2020

This prop gave my Carolina Skiff DLX plenty of stern lift and faster hole shot. This is what I was looking for.


Propeller reviewed on

Oct 26th, 2020

Fast delivery and exact fit with easy installation. Problem solved with a new prop for less than the old one could have been repaired


Propeller reviewed on

Oct 11th, 2020

Had to do a little grinding on the trim tab because the angle of the blades were to steep. The service and the shipping was great!


Propeller reviewed on

Oct 6th, 2020

Fit fantastic


Propeller reviewed on

Oct 5th, 2020

Ordered as a replacement prop for original aluminum prop that was damaged on my pontoon and while waiting on back ordered stainless prop that I have also ordered, liking this 4 blade Hustler so much I may cancel back ordered stainless prop.


Propeller reviewed on

Sep 21st, 2020

This is a back up prop as I had to get one right away for a trip, so I will keep this until needed. But it looks great!


Propeller reviewed on

Sep 1st, 2020

pops up and gets on plane fast you can almost see the drain plug when you gun down on it


Propeller reviewed on

Aug 31st, 2020

Good product


Propeller reviewed on

Aug 28th, 2020

Better hole shot and picked up 6mph on top end. Running this on a Tracker 190 TX with a Merc 90 HP 2 stroke. Older package did not want to spend the money on SS prop, Glad I tried this option.


Propeller reviewed on

Aug 26th, 2020

This prop works great. Fast shipping.


Propeller reviewed on

Aug 20th, 2020

Hub very easy to install and remove. Fit motor perfectly.


Propeller reviewed on

Aug 20th, 2020

Prop works excellent. I always wanted to try a 4 blade prop but always a bit concerned about too much traction getting it out of the hole. The Performance Venting System was the ticket for my purchase decision. Nice prop and good quality. I would purchase another.


Propeller reviewed on

Aug 10th, 2020

After read up on 3 vs 4 blades I went with a 4 blade. The hope was to get a better hole shot and get to plane faster. Not so worried about top speed and more about control and not dropping RPM in tight turns. This prop did really good in both. Think next time I will go with a 17 pitch, just to see if I can get a little more top speed out of my old boat.


Propeller reviewed on

Aug 6th, 2020

Wasn't 100% sure when I ordered but the 4 blade 19 pitch works very well for our use. OEM was a 3 blade 21 and we were on the fence about making a change. Boat is running at 6k feet where it was originally used in Kansas. The old hub gave out and forced a decision. This was a good one. I might try a 3 blade 19 next season for trolling. This one is to fast w/o adding a lot of drag but I can run to almost 5k on my 90 hp Force on a Capri 1700 LS and get over 30mph. For running around and tubing this is more than enough.


Propeller reviewed on

Jul 28th, 2020

Awesome choice going with prop - it provides awesome performance that's noticeable! Getting on plane is quick and effortless, going wide open throttle nets minimal loss in speed compared to previous prop. This improved in every way possible from what I started with, so I'm very pleased with this prop!


Propeller reviewed on

Jul 28th, 2020

proforms as expected


Propeller reviewed on

Jul 27th, 2020

I tried to go up to a 17 pitch prop. Big mistake. Purchased this 13 pitch which is what my motor was designed for. Very pleased.


Propeller reviewed on

Jul 25th, 2020

The prop was what i expected and delivery was prompt.


Propeller reviewed on

Jul 23rd, 2020

Thought I was going to have to get a bigger motor because my 18 foot boat was having trouble getting on a plane, due to added weight of a bait tank and other accessories. The 4 blade prop solved the problem. The boat planes fast, goes faster and rides higher in the water. I went from a 17 pitch 3 blade to the 4 blade at 15 pitch. I could not be more satisfied.


Propeller reviewed on

Jul 20th, 2020

The prop fit perfectly on my Evinrude 115 HO but I was disappointed that it arrived with a couple small chips in the paint on the edge of the prop. Otherwise it would definitely get 5 stars. Needing the prop and unwilling to wait for the return process, I decided to use it anyway. I will say, I was fishing an unfamiliar lake and there were "Deadheads" (underwater logs) in a lot of the bays and even in the lake. The boat was moving along slowly when I hit one that was just under the surface. I immediately put the boat in neutral, shut it down and inspected the prop and all three blades were scratched but none were bent or broken. Very happy about that. Any other aluminum prop would've broken or at least been bent. I'll be purchasing another of these props since this one is still not the correct pitch. Once I find the correct prop, I'll be purchasing a Stainless prop from iBoats.


Propeller reviewed on

Jul 18th, 2020

good


Propeller reviewed on

Jul 17th, 2020

Thought my boat was underpowered because of it not getting on a plane quickly. Was prepared to go to a bigger motor. Put on the four blade prop and went from 17 pitch to 15. All problems solved. Quick hole shot, rides higher in water, and faster. Great product and price.


Propeller reviewed on

Jul 16th, 2020

👍


Propeller reviewed on

Jul 11th, 2020

Was as advertised, easy to install and works great.


Propeller reviewed on

Jul 8th, 2020

Got size info off old prop, easy installation, fast shipping, good price and works great. Thanks Iboats


Propeller reviewed on

Jul 6th, 2020

We have a 89 Larson dc170 with mcm 3.0. I can carry a full load and it doesn't take long to get on plane. Pulled the tube no problem with the 4 adults, 2 kids on board and one on the tube. I am not embarr to take people out on the boat anymore. The top speed wasn't affected much (probably faster now loaded) when switching from a 14.25x17 3 blade but I haven't checked it with gps yet.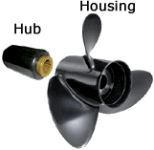 The Hub and Housing make a complete prop
This propeller requires two pieces: a propeller housing and a hub designed to fit your engine. In order for this propeller to work correctly, both parts are needed.
Please choose your engine using the Hub Selection Tool located below the "Add To Cart" button. When your engine is selected, the correct hub is included with your order.
If you do not wish to include a hub with your order or you already have the right hub, please select "No Hub"
Prices listed include both the housing and appropriate hub (if applicable)

The Hub Selection Tool finds the right hub for your propeller