Turning Point Express Stainless 31501330 Stainless Steel Boat Propeller

Representative Prop Photo Only

Propeller Specifications:
Part(s): #31501330
Manufacturer: Turning Point
Brand:Express Stainless
Material: Stainless Steel
Diameter: 15 - 3/10
Pitch: 13
Blades: 4
Rotation:

Standard (Clockwise)
Usually Ships Within: 1 Business Day
Comparison Shopping:
View Related Boat Propellers
Free Shipping!
Order now and save even more with NO shipping costs!

• UPS Ground shipping to lower 48 states only
• UPS does not ship to P.O. Boxes

Lifetime Hub Warranty!
Turning Point's unique hub kit design features a lifetime warranty
Prop Hub Kits engineered to withstand wear and tear without failure
Save more with the industry's only Hub Kit Warranty
About Turning Point Boat Propellers
Express Stainless Stainless Steel Boat Propellers
Improve Handling and Boat Lift
Through advanced pitch line and rake line cupping.
Tuned Progressive Pitch Angles
Accelerating and channeling water to minimize slip increases performance and fuel economy.
Tuned Vents for Fast Hole Shot
Vent holes in the propeller's barrel allow exhaust gases to escape, reducing water density around the propeller's blades during acceleration. This causes the propeller to rotate faster at slower speeds resulting in more horsepower. More horsepower at lower speeds means faster acceleration and a faster hole shot. Turning Point is the only manufacturer offering this race proven feature in our Hustler aluminum propellers on most models (selected models only 13" & 14" diameter 17+ Pitch).
High Flow-Through Barrel Exhaust System
Maximizing exhaust flow increases horsepower and top end speed.
Turning Point Hub System
Lifetime Warranty Hub Kits
Turning Point utilizes high tech shock absorbing polymers and a solid brass spindle, the Turning Point hubs will not corrode or break like competing hubs, and are covered by an industry leading Lifetime Warranty. Each hub's one piece design ensures simple housing replacement, making a prop change quick and easy.
Eliminate Hub System Vibration and Chatter
Innovative one piece design reduces the number of parts and eliminates failures commonly seen in multi-part hub systems.
Eliminate Hub Cracking and Failure
The glass reinforced high-tech polymer construction increases flexibility, eliminating potential material stress fractures.
Corrosion Resistant Materials
Premium corrosion resistant brass splines.
Reduce Gear Shock and Engine/Drive Damage
Shock absorbing high-tech polymer cushion.
Easy to Install
Clear and easy step-by-step directions coupled with minimal parts makes installation easy.
Interchanges with other Manufacturers' Propellers
The 500 series Turning Point hubs upgrade and replace Mercury Flo-Torq II, Michigan Wheel XHS, and Solas Rubex hub kit systems.
Reviews for Turning Point Express Stainless Propellers
| | | |
| --- | --- | --- |
| | | 50% (8) |
| | | 12% (2) |
| | | 6% (1) |
| | | 18% (3) |
| | | 12% (2) |
Scores shown are based on all Turning Point Express Stainless propeller reviews.
Propeller reviewed on

Oct 1st, 2020

Good morning I did enter the promo take5 but it does not show that on the invoice. Please let me know.


Propeller reviewed on

Aug 23rd, 2020

Very happy order it on a Monday and had it by Friday


Propeller reviewed on

Aug 19th, 2020

Good price ,arrived quickly and was easy To install and it performs great


Propeller reviewed on

Apr 29th, 2020

Will not work on my new Suzuki 2019 25hp outboard. After I purchased the prop , I had found several comments that the stainless prop would chatter when it was put into gear. After I had heard that, I call Suzuki to inquire about my dilemma, I was informed that they don't make a stainless prop for that size engine- just thought you might want to let your customers to be aware of this problem..


Propeller reviewed on

Jul 31st, 2016

Prop arrived quickly, Good packing job ! The only thing I had a prob with was the new trim tab that came with the prop. I had to remove a good portion of the leading edge in order for the prop to have clearance and now it works ok. I installed prop on my Tahastu 30hp 4 stroke.


Propeller reviewed on

Jun 11th, 2016

I've used my boat one time since i've installed the new prop. and i'm very pleased with the performance.


Propeller reviewed on

Jul 11th, 2015

I paid almost 500$ for this prop X2 performance good but I went back the next day and the welds where the blades meet the hub...RUSTED!!!!!. I EVEN SPRAYED IT WITH FRESH WATER AFTER THAT DAY OF USE. NOT LOOKING FORWARD TO MY BLADES SNAPPING OFF DO TO CORROSION


Propeller reviewed on

May 27th, 2015

this propeller performs as stated. I would commend if needing a new propeller to get a turning point


Propeller reviewed on

Feb 5th, 2015

Thanks for asking my opinion about your service. I ordered a sst prop from iboats a couple of months ago, the prop came in a box with the correct diameter and pitch marked on the box. However, the prop inside the box was a different diameter and pitch. You would think that common sense would prevail and the prop I ordered could be sent to me. But your company denied my request and told me that I sent back the wrong prop. What a crock!!!! I sent back the same prop in the same box. My credit was denied and the same prop was sent back to me like it was my fault the wrong prop was sent.. I'm done with iboats, no more of my business....Ken Lasserre


Propeller reviewed on

Jul 29th, 2014

Returned for credit prop was out of round


Propeller reviewed on

Jun 15th, 2014

This is a very expensive product. When it arrived I put it in my trailer and brought it to canada with me on a fishing trip. The plan was to put it on the boat when I got to the lodge. When I tried to put it on, I realized that I needed to purchase an accessory for $30 and that I could not install it without buying this extra piece. This is ridiculous. When you pay $500 for a prop, the product should include all if the pieces necessary for its installation. I never got to use the new prop on my fishing grip.


Propeller reviewed on

May 27th, 2014

Not very happy with this product as of now. Tried for 2 weekends now trying to get this prop to work properly on my boat. Still will not work properly. I have contacted Turning Point props and they were not very helpful at all. Will try to get it working once more this weekend


Propeller reviewed on

Oct 8th, 2013

Very satisfied with the performance of the product. Better hole shot and cruise performance than the previous prop I was using


Propeller reviewed on

Sep 26th, 2013

As described


Propeller reviewed on

Sep 15th, 2013

This prop replaced a 13.5 X 13 aluminum prop. It decreased my WOT by 200 RPM but increased my top speed by 2 MPH and gave me a much better hole shot.


Propeller reviewed on

Jul 22nd, 2012

This Prop went on easy with no need to alter anything on lower unit. Took all of 15 min to swap and come with everything needed. Thanks, Nicky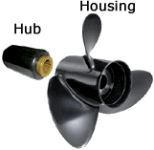 The Hub and Housing make a complete prop
This propeller requires two pieces: a propeller housing and a hub designed to fit your engine. In order for this propeller to work correctly, both parts are needed.
Please choose your engine using the Hub Selection Tool located below the "Add To Cart" button. When your engine is selected, the correct hub is included with your order.
If you do not wish to include a hub with your order or you already have the right hub, please select "No Hub"
Prices listed include both the housing and appropriate hub (if applicable)

The Hub Selection Tool finds the right hub for your propeller