Solas RUBEX NS3 9431-135-15 Stainless Steel Boat Propeller

Representative Prop Photo Only

Propeller Specifications:
Part(s): #9431-135-15
Manufacturer: Solas
Brand:RUBEX NS3
Material: Stainless Steel
Diameter: 13 - 1/2
Pitch: 15
Blades: 3
Rotation:

Standard (Clockwise)
Usually Ships Within: 1 Business Day
Comparison Shopping:
View Related Boat Propellers
Free Shipping!
Order now and save even more with NO shipping costs!

• UPS Ground shipping to lower 48 states only
• UPS does not ship to P.O. Boxes

About Solas Boat Propellers
RUBEX NS3 Stainless Steel Boat Propellers
Solas Stainless Steel High Performance RUBEX Interchangeable Hub Propellers
Interchangeable with Flo-Torq & Vortex Systems
Reduce vibration to provide longer life to lower units
RUBEX Manufacturing Advantages
All SOLAS propellers are developed by a state of the art process. Through a sequence of theoretical calculations, geometry design, prototype testing, pilot production and field tests, SOLAS propellers are designed to meet customers' various requirements.
SOLAS Stainless Steel Propellers feature the industry's highest percentage of chromium, nickel, and molybdenum. Our material resists rust from salt water and increases the stability of the propeller blades. SOLAS Stainless Steel propellers are made by investment casting process.
SOLAS focus its production improvement efforts on efficient use of space, increased yield, first in first out processes and automated equipment (such as robotic dipping arms). We are constantly improving processes and striving even higher. Performance and durability are the characteristics of the SOLAS stainless steel products.
| | | |
| --- | --- | --- |
| | | 75% (31) |
| | | 7% (3) |
| | | 2% (1) |
| | | 4% (2) |
| | | 9% (4) |
Scores shown are based on all Solas RUBEX NS3 propeller reviews.
Specific Reviews are reviews for this exact propeller part number.
Other Reviews are reviews for similar Solas RUBEX NS3 propellers.
Not all Solas RUBEX NS3 reviews may be shown on this page.
Click See All Reviews to view all Solas RUBEX NS3 propeller reviews
Specific Reviews

Reviews for Solas Rubex NS3 Blade Stainless 13.5" dia. X 15" pitch SR

Propeller reviewed on

Jun 24th, 2018

I received the prop in record time and was amazed at how easy it was to install. The directions were accurate and easy to follow. I have since used it on several occasions and I am well satisfied with the performance of my boat. No vibration and it seems to have more out of the hold response since installing the new prop. Very good product and would recommend it to anyone wanting to replace or upgrade their prop.


Propeller reviewed on

May 22nd, 2011

2 out of 2 users found this review helpful

I Totaly Love this prop it shoot's me out of the water and my boat fly's like never before !!! I live in Ontario Canada... now here's the thing I was going to buy a SS prop from a dealer here but the starting price was from $500. to $700. before tax so I saved money and got a nicer prop !!! Tank you iboats for such a great deal and for the help on the phone you guy's do youre best to help out I would and have told alot of people about you guys !!! Thank you once again!!!!

Other Reviews

More Solas RUBEX NS3 Propeller Reviews

Propeller reviewed on

Nov 15th, 2020

Great prop, used the system for what I wanted and the prop fits and works great. Package was delivered in the time span requested in excellent condition


Propeller reviewed on

Aug 12th, 2020

I've been waiting to try out my new Solas propeller for some time but engine repairs held the process for about one month. The performance results were well worth the wait. The hub appears to have a more solid locking feel than did my prior unit and the increase in top speed was a pleasant surprise. I am very satisfied with this purchase and installation was a breeze.


Propeller reviewed on

Jul 8th, 2020

They have great product knowledge, service, quick shipping and my new prop and hub have made a great improvement on my 250hp Yamaha outboard.


Propeller reviewed on

Jul 2nd, 2020

Quick delivery and great performance.


Propeller reviewed on

Jan 27th, 2020

This is my second review, after mounting and running the propeller. Nice looking prop, fit it is also nice. HOWEVER, for YEARS I have run an OMC Raker 13 X19 stainless steel prop, I decided to replace it when one blade got slight bent tip. I figured 15 years and three repressed hubs was enough, it provided good service. The boat always had a top speed of 42-43 MPH, at 5400 RPM, or in other words perfect. This new Solas Rubex gives a top speed of 37 MPH at 5800 RPM. My guess is either the pitch was marked wrong on the 15 year old Raker, or the pitch is marked wrong on the brand new Solas. I only ran it for two hours, so I don't have a good feel for how it does at cruise economy, it should be okay there. I can tell the pitch is different since the boat launches much harder. So, I will be okay with this propeller. Just cruise a couple of MPH slower.


Propeller reviewed on

Dec 29th, 2019

I am a little leary of "changeable core props", But decided to give one a try, since the price was good. The iBoats folks are great! I paid for two day shipping, the prop didn't arrive for 5 days, they refunded all of the shipping cost. They didn't have to do that, but I am grateful just the same. The prop looks good, I checked for run-out at the base and tips of the propellers, it is minimal, well within what I expected. I haven't run it yet, but will do so in the next few days, I don't expect any surprises, this boat has run a 13X19 prop for several years, two decades actually.


Propeller reviewed on

Sep 14th, 2019

the product probably works good on the right motor. But it does't fit mine like the sight said. so I am having a lot of trouble trying to get it sent back to you. have already ordered another one from you installed it and works great. Just can't seem to a response on line to get the other sent back.


Propeller reviewed on

Aug 14th, 2018

I have a 1989 Winner 1660 Tournament (16.5') with a 1996 90hp Force by Mercury. The prop on it was a 13.5" diameter (roughly) 17" pitch 3 blade. It had some damage and appeared to be repaired so I figured I should get a new prop. Seemed to be a bit of vibration as well. Holeshot was good but my rpms were sitting at about 5700-5850 (somewhere around 36-38 mph and hit 40 mph once on a really calm day) and recommended rpms on the motor are 5250 (4750-5250). I got the NS3 3 blade 13" diameter 21" pitch prop and the proper 15 spline rubex hub and it installed smoothly and very simply. My rpms dropped to about 4800-5200 depending on trim level and water conditions but my top speed is now a more consistent 40 mph (per the tach, no gps yet). Holeshot did NOT get affected. If it did I didn't notice it in the least. Cannot really comment on fuel efficiency because I did not want to run the boat with a damaged prop for very long. I would assume it's a LOT better being my max rpms are about 800-1000 less. The engine is also not being run as hard which was another concern of mine. Overall performance of the boat seems great and the engine seems less noisy, smoother, and more consistent. I've taken it through some nasty grass and lillys once and the rubex hub seemed to do just fine at absorbing hits from stuff I shouldn't be running through. My first boat and first prop/hub purchase and it went very smoothly. I will definitely come back to iBoats for more parts that this ol' gal will need!


Propeller reviewed on

Jul 31st, 2018

Installed on my 21' Sea Hunt center console with Yamaha 150. Was sluggish getting out of the hole and only hitting 5400 rpm wide open at 43mph. It jumps out now and hits 6100 wide open at 44mph. 👍🏻👍🏻


Propeller reviewed on

Jul 5th, 2018

As a relative rookie when it comes to boating, I was leery about purchasing from a brand I hadn't heard of - but also not interested in spending top dollar on a brand name prop. Glad I went with this Solas stainless prop after doing much research on the brand and product. iBoats made the process of finding the appropriate pitch and diameter easy, ordering was quick, reliable and painless. I did the installation with the boat in the water while standing in ~3' of water behind it, took me all of about 15 minutes and never had the slightest issue. The difference in my boat is significant. (20' center console, 125hp Mercury Sal er motor - had a vastly inappropriate 19" pitch, should have been 13"). Getting out to our fishing spots far quicker, boat is planing much faster and over-all it is just running better.


Propeller reviewed on

Jul 2nd, 2018

This prop works great on my 75 hp etec


Propeller reviewed on

May 22nd, 2017

The instructions were easy to read and easy to follow. The prop went on easily and preforms as expected. Thanks


Propeller reviewed on

Mar 8th, 2017

I used this on my Mercury 25HP and Boston Whaler 110 Sport. A real nice propeller for this size motor. A great value and I have had no issues with it. Feels smooth with no vibrations. I recommend this for 25 HP motor.


Propeller reviewed on

Aug 2nd, 2016

put about 30 hrs on this prop so far off the NC coast . no issues, minimal slippage , no flex. good prop so far


Propeller reviewed on

Dec 30th, 2015

Delivered on time and as advertised. Satisfied with the purchase.


Propeller reviewed on

Nov 4th, 2015

All good


Propeller reviewed on

Sep 23rd, 2015

This hub doesn't get any stars from me, this hub and SS prop was bought as a kit. It vibrates something awful. Shakes the whole 1756 alweld boat at lower rpm. I bought a yamaha prop to replace it, SS also, no vibration, just like the aluminum prop that was on it. Boat only had 5 hours on it when this kit was put on.


Propeller reviewed on

Sep 9th, 2015

Prop didn't come with a hub kit


Propeller reviewed on

Aug 18th, 2015

Replaced stock alum prop. Bass boat handles much better and throttle is more responsive. Stayed with 21 pitch like the alum and it was fine. Excellent on line tech help from iboats rep who conferenced in Solas product expert.


Propeller reviewed on

Aug 16th, 2015

I got 4-5 mph more speed by switching to this prop.


Propeller reviewed on

Aug 6th, 2015

Excellent craftmanship and worked very well. No problems noted!


Propeller reviewed on

Jul 23rd, 2015

Bought to replace a aluminum prop, nice fit and finish. The rubex hub does help with the shift clank. At half the cost of a SDS Yamaha prop it is very nice.


Propeller reviewed on

Jul 20th, 2015

Prop delivered quickly. Great service and a great prop for the price.


Propeller reviewed on

Jul 19th, 2015

Arrived in great time. All parts fit, was easy to install and works good.


Propeller reviewed on

Jul 13th, 2015

My first stainless prop. Running on a 75 Merc 4 stroke. Increased top speed by @ 1 1/2 mph. Running right at the recommended optimum RPM for this motor. Would buy again!


Propeller reviewed on

Jun 28th, 2015

I bought this prop knowing the Solas reputation, but with no personal experience. I went from a 13 3\4" 21 pitch to a 14" 21 pitch (both stainless). The Rubex hub is a breeze to install and the prop fit on the boat flawlessly. It looks great out of the water, too. I may have lost 1-2 mph, but the boat still goes over 55 mph. The biggest gain was takeoff and cornering. With the old prop, I experienced cavitation in any tight corners under power. Now, I can corner like a racecar! If you need a replacement prop and need power to pull or want the best all around performance you can get - this is your next prop. Happy Boating!!!


Propeller reviewed on

Nov 23rd, 2014

No disappointments. Great acceleration, smooth operation and excellent top end speed. RPM within OEM range. The right product for my Searay boat.


Propeller reviewed on

Aug 27th, 2014

Great service.Very knowledgeable people.Love my new prop and can't wait to order something else.


Propeller reviewed on

Jul 19th, 2014

He was suspicious. Couldn't mount that easily. Probably won't fit. BUT, it's great. Boat is faster, smoother than ever before.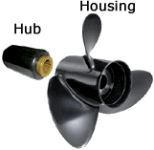 The Hub and Housing make a complete prop
This propeller requires two pieces: a propeller housing and a hub designed to fit your engine. In order for this propeller to work correctly, both parts are needed.
Please choose your engine using the Hub Selection Tool located below the "Add To Cart" button. When your engine is selected, the correct hub is included with your order.
If you do not wish to include a hub with your order or you already have the right hub, please select "No Hub"
Prices listed include both the housing and appropriate hub (if applicable)

The Hub Selection Tool finds the right hub for your propeller