Solas RUBEX L3 9572-153-19 Stainless Steel Boat Propeller

Representative Prop Photo Only

Propeller Specifications:
Part(s): #9572-153-19
Manufacturer: Solas
Brand:RUBEX L3
Material: Stainless Steel
Diameter: 15 - 1/4
Pitch: 19
Blades: 3
Rotation:

Counter (Counter-Clockwise)
Usually Ships Within: 1 Business Day
Comparison Shopping:
View Related Boat Propellers
Free Shipping!
Order now and save even more with NO shipping costs!

• UPS Ground shipping to lower 48 states only
• UPS does not ship to P.O. Boxes

About Solas Boat Propellers
RUBEX L3 Stainless Steel Boat Propellers
Solas Stainless Steel High Performance RUBEX Interchangeable Hub Propellers
Interchangeable with Flo-Torq & Vortex Systems
Reduce vibration to provide longer life to lower units
RUBEX Manufacturing Advantages
All SOLAS propellers are developed by a state of the art process. Through a sequence of theoretical calculations, geometry design, prototype testing, pilot production and field tests, SOLAS propellers are designed to meet customers' various requirements.
SOLAS Stainless Steel Propellers feature the industry's highest percentage of chromium, nickel, and molybdenum. Our material resists rust from salt water and increases the stability of the propeller blades. SOLAS Stainless Steel propellers are made by investment casting process.
SOLAS focus its production improvement efforts on efficient use of space, increased yield, first in first out processes and automated equipment (such as robotic dipping arms). We are constantly improving processes and striving even higher. Performance and durability are the characteristics of the SOLAS stainless steel products.
Reviews for Solas RUBEX L3 Propellers
| | | |
| --- | --- | --- |
| | | 100% (5) |
| | | 0% (0) |
| | | 0% (0) |
| | | 0% (0) |
| | | 0% (0) |
Scores shown are based on all Solas RUBEX L3 propeller reviews.
Specific Reviews are reviews for this exact propeller part number.
Other Reviews are reviews for similar Solas RUBEX L3 propellers.
Specific Reviews

Reviews for Solas Rubex L3 Blade Stainless 15.25" dia. X 19" pitch CR

Propeller reviewed on

Jul 12th, 2020

Good customer service

Other Reviews

More Solas RUBEX L3 Propeller Reviews

Propeller reviewed on

Oct 29th, 2019

Prop works good on a 210 Triumph with a Suzuki 150


Propeller reviewed on

Sep 4th, 2015

Fast delivery, excellent valve, easy to install and very happy with the performance!


Propeller reviewed on

Oct 3rd, 2011

Great prop. Planes out well, great midrange, and has great top end. 53-54 mph on 18' Larson.


Propeller reviewed on

Sep 24th, 2011

Worked great. Boat flies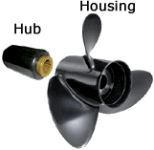 The Hub and Housing make a complete prop
This propeller requires two pieces: a propeller housing and a hub designed to fit your engine. In order for this propeller to work correctly, both parts are needed.
Please choose your engine using the Hub Selection Tool located below the "Add To Cart" button. When your engine is selected, the correct hub is included with your order.
If you do not wish to include a hub with your order or you already have the right hub, please select "No Hub"
Prices listed include both the housing and appropriate hub (if applicable)

The Hub Selection Tool finds the right hub for your propeller