Solas RUBEX HR4 9453-130-17 Stainless Steel Boat Propeller

Representative Prop Photo Only

Propeller Specifications:
Part(s): #9453-130-17
Manufacturer: Solas
Brand:RUBEX HR4
Material: Stainless Steel
Diameter: 13
Pitch: 17
Blades: 4
Rotation:

Standard (Clockwise)
Usually Ships Within: 1 Business Day
Comparison Shopping:
View Related Boat Propellers
Free Shipping!
Order now and save even more with NO shipping costs!

• UPS Ground shipping to lower 48 states only
• UPS does not ship to P.O. Boxes

Act Now – While Supplies Last!
These propellers are flying off the shelf fast!
Don't miss the chance to save on your new prop.
About Solas Boat Propellers
RUBEX HR4 Stainless Steel Boat Propellers
Solas Stainless Steel High Performance RUBEX Interchangeable Hub Propellers
Interchangeable with Flo-Torq & Vortex Systems
Reduce vibration to provide longer life to lower units
RUBEX Manufacturing Advantages
All SOLAS propellers are developed by a state of the art process. Through a sequence of theoretical calculations, geometry design, prototype testing, pilot production and field tests, SOLAS propellers are designed to meet customers' various requirements.
SOLAS Stainless Steel Propellers feature the industry's highest percentage of chromium, nickel, and molybdenum. Our material resists rust from salt water and increases the stability of the propeller blades. SOLAS Stainless Steel propellers are made by investment casting process.
SOLAS focus its production improvement efforts on efficient use of space, increased yield, first in first out processes and automated equipment (such as robotic dipping arms). We are constantly improving processes and striving even higher. Performance and durability are the characteristics of the SOLAS stainless steel products.
| | | |
| --- | --- | --- |
| | | 64% (24) |
| | | 16% (6) |
| | | 8% (3) |
| | | 2% (1) |
| | | 8% (3) |
Scores shown are based on all Solas RUBEX HR4 propeller reviews.
Specific Reviews are reviews for this exact propeller part number.
Other Reviews are reviews for similar Solas RUBEX HR4 propellers.
Not all Solas RUBEX HR4 reviews may be shown on this page.
Click See All Reviews to view all Solas RUBEX HR4 propeller reviews
Specific Reviews

Reviews for Solas Rubex HR4 Blade Stainless 13" dia. X 17" pitch SR

Propeller reviewed on

Jun 17th, 2016

Prop is exactly as advertised. Came on time even with customs. I had a harder time to get parts from a local chain. Very happy. Gets the revs right on spec. Looking forward to a summer of fun.


Propeller reviewed on

Jun 17th, 2011

The Solas prop is perfect except for the pitch. It's too high and the " Return Policy" at Iboats is poor. The prop was used for an rpm test, it ran quiet and definitely improved the " hole shot". Where I live, Mercury dealers sell Mercury props and a 4 blade design isn't made for my 2008 EFI 90 HP lower unit. I've had easier experiences returning Raymarine Chartplotter that uses software. Don't buy from here until you know that a Solas prop of a pitch and cup will work for your boat. Mind you, 14 years in the Coast Guard setting up boats, still doesn't let a buyer know exactly how one prop from one manufacturer runs against another. I'll buy the correct pitch, but I will be hesitant with such a conservative return policy. Currently, the prop is considered " used", even though it has an interchangeable hub kit. " Used" props are non-returnable. Perhaps, Iboats could start a online propping division with a credit card retainer, like um... Netflix or Blockbuster.

Other Reviews

More Solas RUBEX HR4 Propeller Reviews

Propeller reviewed on

Jul 24th, 2020

It works great


Propeller reviewed on

Apr 15th, 2020

Prop was ok but over revving. No returns on prop if it it gets wet.....Needed the next size prop but no help from i-Boats. Best to buy from somewhere else !!!


Propeller reviewed on

Aug 16th, 2018

Changed from Aluminum 3 blade 21P to SS 4blade 19P and am very happy.


Propeller reviewed on

Aug 7th, 2018

We purchased this prop to replace a 14x21p on a Volvo Penta SX drive 4.3 liter. The result is better hole shot and less time dragging under water when doing a deep water start.


Propeller reviewed on

Jun 12th, 2018

Excellent product. Excellent price. Excellent service. Quick and easy. Definitley would use them again.


Propeller reviewed on

May 16th, 2018

This prop slowed down my performance by half. And of course once I seen the poor performance of this prop they would not let me exchange or return it. So beware when purchasing props, if you use it, you buy it regardless..........


Propeller reviewed on

Aug 13th, 2017

Fast shipping at a good price


Propeller reviewed on

Jul 11th, 2017

I lost about 600 RPM's and it took a long time for my boat to get on plane.


Propeller reviewed on

Jan 11th, 2017

Really made my hole shot quicker with a much smoother ride .....top end about the same ........replaced a 3 blade 20 pitch prop


Propeller reviewed on

Sep 25th, 2016

Boat planes out quickly Faster than ever on a 15 year old boat


Propeller reviewed on

Sep 19th, 2016

Prop was very easy to order and showed up just as promised, I installed it in about 15 minutes and went fishing. The 4-blade design much better than my stock 3-blade aluminum prop, in that it maintains a better rpm when going up and down swell (runs approx. 200-300 rpm higher) and does not bog down going up swell and then race up when going down swell, it also gets up on plane much faster on my 19' Chapparel Bow-rider. Highly recommend this upgrade.


Propeller reviewed on

Sep 15th, 2016

Even loaded, the prop gets my 18.5 Alumacraft out of the water fast. The fourth blade helps keep the boat running even and has produced far better gas mileage than my previous prop.


Propeller reviewed on

Sep 7th, 2016

I have an 11 year old Harris Kayot V220 Deck boat and I replaced my 3 blade stock prop with this 4 blade Solas and what a difference. Boat planes much more quickly and it seems like the engine does less work all around. So far I'm loving this prop!


Propeller reviewed on

Aug 16th, 2016

Replaced a 3-blade 17 pitch aluminum prop with this 18 pitch, primarily for pulling skiers. Wow. Better hope shot for pulling skiers with less bow rise. Quicker on plane and much better top end speed. The 17 would easily red line the engine at lower speeds. A nice prop for our 21' Statos bow rider with a 5.8 liter engine and OMC Cobra out drive.


Propeller reviewed on

Aug 16th, 2016

Looks well built, preforms as it should


Propeller reviewed on

Jul 26th, 2016

1 out of 1 users found this review helpful

Great performance with increased top end speed over my 3 blade 19 pitch. Fast delivery. Overton's would have been an extra 1 to 2 weeks.


Propeller reviewed on

May 11th, 2016

This was well worth the money. My 1875 Lund handles like a dream. This prop allows me to use full trim which really raises the boat out of the water. I can stay on plane at a very low speed. Mid rang has great bow lift. I was a little apprehensive about buying this and not a Mercury prop but I made the right choice and saved about $150.00. I did not loose any speed going to this four blade. Don't be afraid to buy this prop.


Propeller reviewed on

Sep 13th, 2015

I wanted to try a modern 4-blade prop on my old 1987 Searay S21. I gives me the same top speed as my old 15" X 17pitch 3 blade SS prop, at lower engine speed. My boat has always had an in-between props problem with the 3-blades. 17pitch overrevs and 19pitch takes too long to plane. The old 15" x 17 prop let the engine rev to 4800 RPM which is above the recommended 4600. With this prop the top speed is at 4400 RPM with the same acceleration and a much smoother ride. I feel a lot better keeping the revs down on my 28 year old motor! Cost was lower than other 4-blade SS options.


Propeller reviewed on

Aug 8th, 2015

Just what I needed for my 18.5 foot bass boat with my Johnson 150 V6. Smooth operation and I really like using the Solas RBX-101 - High Performance Rubber Hubsystem. Purchased separately. I can now have different props and pitches at a lower cost.


Propeller reviewed on

Jul 15th, 2015

1 out of 1 users found this review helpful

My SeaRay 215 Express is a heavy boat for it's size. The aluminum prop that was on the boat when I bought it made the boat act like a slug. It took a long time to plan and had slow top end speed. I was recommended to try a 4 blade prop by a friend. WOW what a difference. The boat jumps onto plane and my top speed increased 4 mph. I would recommend this prop for all small cruisers or cuddy boats this size. Cris in TN


Propeller reviewed on

Oct 3rd, 2014

Works great on my 22' pontoon boat


Propeller reviewed on

Jul 30th, 2014

I replaced a slightly but not badly dinged up stock 3 blade 14.25x21P aluminum prop on a Volvo SX 5.0. The boat planed slowly, ran 43mph and reved about 300RPM over recommendation. With the Solas 4 blade prop Top speed actually remained the same at 43mph and the RPM came down 100 RPM. The boat did not plane any better with the for blade. My stopwatch says holeshot is almost identical, but prop slip appears to be gone. Performance is responsive in the midrange and cavitation is non existant. What I did not get in holshot I did get in durability with a stainless prop. next step trim tabs.


Propeller reviewed on

Apr 2nd, 2014

Haven't ran my boat that much yet.


Propeller reviewed on

Sep 27th, 2013

Great Prop Excellant Performance! Really gets the Boat up on Plane quickly!


Propeller reviewed on

Aug 9th, 2013

I was running a 3 blade 14"-19 pitch and bumped up to a 4 blade 14.25"- 17 pitch. It was a night and day difference. More control in corners, way better out of the hole and still got the same top end speed. If I was allowed to demo a prop I would try the a 4 blade 14.25-15 just for kicks and see what I could squeeze out of that f150 Yamaha.


Propeller reviewed on

Jul 27th, 2013

The prop fits perfect and runs great.


Propeller reviewed on

Jun 23rd, 2013

Recently upgraded to a Bayliner Cierra 245/5.0/220hp/alpha one- this boat weighs 5300 lbs and would come out of the whole like a pig. It is not a spped boat by far, but it certainly did not perform up too par. I own a an auto repair shop and I always perform my research before making a decision. So after I drove the boat, the previous owner had changed the prop to an aluminum 15 x17 x 3 blade. The original prop from factory was 15 x 16 x 4. The four blade lower pitch would throw more water faster for better plane. The current problem with the 3 blade prop is that the boat would take forever to plane and would loose momentum when cruising. I made a decision to go with a stainless prop for less flex under thrust/load. I wanted the four blades to move more wather and went with the 15 pitch to increase torque and improve planing time. This prop worked great I can peg the throttle with the trim down- boat comes up and I can starting trimming the boat to plane- I live on the south hore of Long Island Ny and the bay is always chopping on average 2 ft waves- I could cruise at 35 mph/4600 rpm trimmed with good bow lift, and still have an extra 200 rpms left in reserve. I did not loose MPH and overall performance increased from hole shot to cruise. I see allot of people either do not know how to properly trim there outdrive- pushing too much water and slowing the boat down. Remember when on plane trim for a decent bow lift with outstaving the prop. The other mistake I see people make is not selecting a prop for proper use. I hope someone finds this useful- I saw negative reviewson it and knew it was all user error.


Propeller reviewed on

Sep 8th, 2012

Smooth running prop with no vibration. It did what a 19" Prop should at a great price. I would buy another Solas prop with out hesitation.


Propeller reviewed on

Jun 17th, 2012

This Solas 4 blade added 10 more mph, and instant faster holeshot on my mercury force 90 motor..A little more noise when I shift into gear, due to the weight, but all in all a five star purchase..Would highly recommend...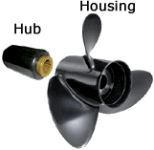 The Hub and Housing make a complete prop
This propeller requires two pieces: a propeller housing and a hub designed to fit your engine. In order for this propeller to work correctly, both parts are needed.
Please choose your engine using the Hub Selection Tool located below the "Add To Cart" button. When your engine is selected, the correct hub is included with your order.
If you do not wish to include a hub with your order or you already have the right hub, please select "No Hub"
Prices listed include both the housing and appropriate hub (if applicable)

The Hub Selection Tool finds the right hub for your propeller