Solas Amita 1513-140-23 Aluminum Boat Propeller

Representative Prop Photo Only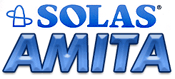 Propeller Specifications:
Part(s): #1513-140-23
Manufacturer: Solas
Brand:Amita
Material: Aluminum
Diameter: 14
Pitch: 23
Blades: 4
Rotation:

Standard (Clockwise)
Usually Ships Within: 1 Business Day
Comparison Shopping:
View Related Boat Propellers
Free Shipping!
Order now and save even more with NO shipping costs!

• UPS Ground shipping to lower 48 states only
• UPS does not ship to P.O. Boxes

iboats.com Best Seller
Great value & high performance make this a favorite.
Custom 1-piece prop built just for your engine.
About Solas Boat Propellers
Amita Aluminum Boat Propellers
High quality aluminum propeller.
Universal blade design to fit wide variety of applications.
Designed for outstanding acceleration and top speed.
Tough heavy duty rubber bushing smoothes shifting and won't slip.
Exclusive Solas squeeze casting process nearly eliminates porosity making our aluminum propellers stronger and tougher than traditional die cast propellers.
Solas aluminum propellers have 4 layers of paint applied using superior coatings and high-tech painting process to ensure excellent anti-corrosion performance.
Applications
Amita
propellers offers the best performance in these types of boats:
Outboard powered inflatable
Aluminum
Ski
Bass
Flats
Walleye
Offshore single and dual engine
Commercial
Pleasure
Runabout
Pontoon boats
Stern driven family cruisers
Runabouts
House boats
| | | |
| --- | --- | --- |
| | | 79% (1734) |
| | | 11% (253) |
| | | 2% (48) |
| | | 1% (25) |
| | | 5% (112) |
Scores shown are based on all Solas Amita propeller reviews.
Specific Reviews are reviews for this exact propeller part number.
Other Reviews are reviews for similar Solas Amita propellers.
Not all Solas Amita reviews may be shown on this page.
Click See All Reviews to view all Solas Amita propeller reviews
Specific Reviews

Reviews for Solas Amita 4 Blade Aluminum 14" dia. X 23" pitch SR

Propeller reviewed on

Aug 20th, 2018

This prop is perfect for my boat. SeaRay 185 Sport.


Propeller reviewed on

Dec 5th, 2017

Gone from a 3 blade to a 4 blade . Boat tucked away for the winter can't wait till spring.


Propeller reviewed on

Aug 21st, 2017

Only complaint is that, employing standard thrust washer, the spline lock washer provided with prop is not machined like a Merc spline washer, and will not lock in on the prop shaft splines for purposes of locking the prop nut. You will need to use a brass Merc spline washer if you intend to lock the prop nut. Prop bites well, holds boat steady on 3.5" jack plate, up 4" off transom, 2L Merc w/ 20" midsection on 50 y.o. 16' Allison deep V. Doesn't quite perform with 4 blade stainless, but close. And much less expensive!


Propeller reviewed on

Aug 11th, 2017

Great product an fast shipping


Propeller reviewed on

Jul 18th, 2014

Nice prop, but it slowed by boat down considerably, and it would not get on plane for a long time. I switched to the same prop with a 19 pitch and that one is amazing. Will definitely buy again!


Propeller reviewed on

Jun 16th, 2014

This prop is awesome and it's the best price anywhere.


Propeller reviewed on

Aug 6th, 2013

This prop is nice for low cost. We did notice it took a lot longer to plane out when pulling a wakeboarder/skier compared to our old prop. This would be a great spare prop for the low price


Propeller reviewed on

Jul 28th, 2013

I bought theSolas Amita 4 blade alum. blade to replace the originalropeller in my boat. I got the same diam. and pitch but 4 blades instead of 3. The propeller is very quiet. It doesn't vibrate at all. The boat gets to plane faster, so its good for skiing or towing inflatables. I think I got the best product for my boat and engine.


Propeller reviewed on

Jul 11th, 2013

Good service And fast delivery..


Propeller reviewed on

Sep 18th, 2012

At this price I could afford to purchase this prop and just even try it on my boat. The out of the hole suffered but the top end increased by almost 5 mph. I do mostly tubing and skiing so I will not be using this often, but for 100 bucks it a great spare and if I wanna go crusing a 5 minute change and away I go!


Propeller reviewed on

Feb 16th, 2012

2 out of 2 users found this review helpful

Lowered my rpm and increased my speed. Just what i wanted. Thank you so much.

Other Reviews

More Solas Amita Propeller Reviews

Propeller reviewed on

Aug 1st, 2021

It's perfect, just like the previous prop I ordered from you.


Propeller reviewed on

Aug 1st, 2021

I run a shallow river sand and rocks. For the price of this prop can't beat it. Iboats is where to shop.They have taken care of me over the years.


Propeller reviewed on

May 17th, 2021

Quick shipping and perfect fit 5 stars.


Propeller reviewed on

May 17th, 2021

Solas prop is my go to prop, have never had anything but excellent performance from them. Iboat.com provides fast hastle free service and quick delivery, keeping me up and running.


Propeller reviewed on

Apr 25th, 2021

Prop was a perfect match to my oem prop. Fast shipping and easy process.


Propeller reviewed on

Apr 13th, 2021

I have not used it yet, but so far so good. Also you should know that the brass washer that was included does not fit the Prop. The shoulder is too small. That has been the case with all 3 props that I have bought from your company. Jim Hogan 360-909-9912


Propeller reviewed on

Apr 4th, 2021

works well


Propeller reviewed on

Mar 27th, 2021

Had trouble with porpoising with my 3 blade, 19 pitch SS prop and went to this 4 blade aluminum and problem solved!


Propeller reviewed on

Mar 14th, 2021

Fast service perfect fit


Propeller reviewed on

Mar 10th, 2021

My honest mistake. My old prop says 14x17, I search and only prop I find is 14...x17. I immediately see it is too large. No service said to take photos. In the light the photo picks up glare. No service says I damaged the prop, no return. Finally supervisor says send it back. No service says it may take 30 to give an answer. 2 weeks later, no answer from no service. Many friendly boat companies to buy.


Propeller reviewed on

Feb 14th, 2021

Service was good, received ordered product promptly. Haven't put on boat due to weather.


Propeller reviewed on

Feb 13th, 2021

Blades are small than original, but very nice product.


Propeller reviewed on

Feb 9th, 2021

So this might be a duplicate. I have used prop on 3 duck hunting trips and it seems to be working fine.


Propeller reviewed on

Feb 3rd, 2021

Should work great


Propeller reviewed on

Jan 17th, 2021

Great price for a basic 3-blade Aluminum prop.Hard to find pitch was available, in stock, delivered quickly. Looks great but waiting for warmer weather to install.


Propeller reviewed on

Jan 3rd, 2021

My old prop spun on my johnson Seahorse 70, this one works great.


Propeller reviewed on

Dec 26th, 2020

It fit on my motor like a glove. Ran as designed.


Propeller reviewed on

Dec 19th, 2020

I like the Solas Amita prop. It works well and is easy to install. Performs well on my boat. Arrived in about 4 days. Transaction was easy and flawless. IBoats web site is easy way to find prop that fits boat motor.


Propeller reviewed on

Dec 17th, 2020

I have owned and used several solas props. have two Solas Amita props that I use on 150 hp evinrude V6. 17 and 19 pitch by 15.5 diameter. Both props work well and fit great depending on the boat load and what I am doing I will use one or the other. Shipping was very fast. I have bought several items from iboats and have always been satisfied.


Propeller reviewed on

Nov 18th, 2020

Propeller is as expected. My only disappointment was that I had to reuse the cotter pin. Would have nice If a new one was provided as well as the other parts such as spacer, nut etc.


Propeller reviewed on

Nov 18th, 2020

Fast shipping, great price


Propeller reviewed on

Nov 16th, 2020

Order placed on Friday 13th and delivery date is the 18th????


Propeller reviewed on

Oct 31st, 2020

I've got a 16'x54" Jon boat gets on top fast like I need made it turn a lot better lost 1.5 mph on top end but It does good


Propeller reviewed on

Oct 19th, 2020

good job


Propeller reviewed on

Oct 16th, 2020

I bought this prop to replace 23 pitch three blade aluminum on a 22 foot Bayliner with 5.7L inboard. It made a huge difference in acceleration and I actually picked up about 8mph of top speed, which I was expecting to lose 2-3mph.


Propeller reviewed on

Oct 15th, 2020

Very nice product fast shipping and reasonable prices. Highly recommended.


Propeller reviewed on

Oct 14th, 2020

I learned the hard way about buying a prop online from iBOATS....their policy once the prop touches the water no return, no allowance, no swap is available. The prop did not perform even close to expectation, but I had no way of knowing that with out trying it. Let the buyer beware.


Propeller reviewed on

Oct 10th, 2020

The website said it would fit my motor but when I went to install it, it was to short.


Propeller reviewed on

Oct 7th, 2020

Worked perfect no issues got me back on the water


Propeller reviewed on

Oct 7th, 2020

Perfect. It slipped right on and off we went. 👍👍