Michigan Wheel Vortex XHS 941411 Aluminum Boat Propeller

Representative Prop Photo Only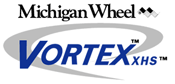 Propeller Specifications:
Part(s): #941411
Manufacturer: Michigan Wheel
Brand:Vortex XHS
Material: Aluminum
Diameter: 13.87
Pitch: 11
Blades: 4
Rotation:

Standard (Clockwise)
Usually Ships Within: 5 Business Days
Comparison Shopping:
View Related Boat Propellers
Free Shipping!
Order now and save even more with NO shipping costs!

• UPS Ground shipping to lower 48 states only
• UPS does not ship to P.O. Boxes

About Michigan Wheel Boat Propellers
Vortex XHS Aluminum Boat Propellers
High Gloss Powder Coat (protects aluminum from corrosion)
Optimal Blade Thickness
Cupped Trailing Blade Edge (better grab)
Exchangeable Hub System
Urethane cushioned hub (protects your lower unit from damage)
Flared Hub Design (prevents ventilation blow-out)
Interchangeable with the Mercury Flo Torq II exchangeable hub system.
100 years of propeller manufacturing experience
Limited lifetime warranty
High Performance aluminum replacement props with high gloss, black, powder coat finish. Interchangeable with Mercury Flo Torq II exchangeable hub system. Vortex and XHS fit most engine applications.
XHS Exchangeable Hub System absorbs impact and stress caused by shifting gears. The urethane-cushioned hub is designed to spin under significant impact, reducing the potential for costly lower unit damage.
| | | |
| --- | --- | --- |
| | | 77% (206) |
| | | 13% (37) |
| | | 2% (8) |
| | | 1% (3) |
| | | 4% (13) |
Scores shown are based on all Michigan Wheel Vortex XHS propeller reviews.
Specific Reviews are reviews for this exact propeller part number.
Other Reviews are reviews for similar Michigan Wheel Vortex XHS propellers.
Not all Michigan Wheel Vortex XHS reviews may be shown on this page.
Click See All Reviews to view all Michigan Wheel Vortex XHS propeller reviews
Specific Reviews

Reviews for Vortex Aluminum 4 Blade 13.875" dia x 11" pitch SR

Propeller reviewed on

Aug 20th, 2016

Changing to a four blade from a three blade was a great choice. Dropping one pitch I got better acceleration but kept my top speed.


Propeller reviewed on

Sep 16th, 2015

I bought this for my pontoon (20 foot w/85 hp Johnson )....i havent tried it out much yet (stupid work lol)...but the shipping was fast and customer service was great. ..I'll update this weekend after i put it through its paces


Propeller reviewed on

Sep 1st, 2015

I purchased this prop to replace my damaged stock 3 blade on my 2007 Mercury 60hp 4 stroke EFI Bigfoot (on 20' pontoon). I highly recommend this prop, the boat runs like new with power I forgot it had (if it ever had this much) and loading on a trail has never been this easy. It was delivered on time with no problems. Took maybe 5 minutes to remove old prop and install this new one.


Propeller reviewed on

Jun 13th, 2015

Installed on 24' Harris Pontoon with 115HP Johnson. Loved the improved performance pulling tubes and skiers. Better out of the hole and trim.


Propeller reviewed on

Jun 7th, 2015

I have an F115 Yamaha 4-stroke on a 25ft C-Hawk with cabin. My boat is set up for Crabbing and Tonging(oysters). This prop is the perfect size and pitch for my boat with that engine. I'm now able to hit WOT @ 6000RPMs (vs 5000 with previous prop). I burn less fuel , and the engine runs much better (I came down from a 13.5 x 15 pitch 4 blade). Reverse is a little different , but that is pretty much how it is with 4 blade props. I even picked up 1.5 kts on top end. Much better lift out of the water as well. I am very satisfied with this prop. And iBoats got it to me VERY quickly.


Propeller reviewed on

Jul 15th, 2014

The blades were shipped quickly and arrived before the delivery date. I replaced my 3 blade prop with these and they seem to work well after an initial trip. They hold the water very well and allow for higher trimming of my motor without ventilation. Given this fact, I believe they will perform well in rough/chopper water where ventilation can often occur. I haven't had a chance to check my RPM with these new props but at present they perform about the same for gas mileage as my 3 blade prop. If I need a smaller pitch that may mean the 4 blades would provide better gas mileage as my motor will be in the proper RPM range. Overall satisfied.

Other Reviews

More Michigan Wheel Vortex XHS Propeller Reviews

Propeller reviewed on

Jul 26th, 2020

I have used the Vortex blade in the pass and it preformed well. I ordered a spare blade on July 7 and 17 days later I have not received it. There has been no effort in contacting me with delivery date status when I contacted I-Boat. Customer service needs to improve.


Propeller reviewed on

Jul 21st, 2020

My Suzuki 60 could not achieve full revs with the prop originally provided. A swap to a one inch less pitch prop worked perfectly taking it into the recommended RPM range. My pontoon boat performance is noticeably improved.


Propeller reviewed on

Jun 27th, 2020

Prop is exactly as described and installed in about 2 minutes as expected.


Propeller reviewed on

Aug 5th, 2018

Arrived timely. Works well.


Propeller reviewed on

Nov 29th, 2017

fit and works good


Propeller reviewed on

Nov 20th, 2017

Just as advertised. Quick delivery.


Propeller reviewed on

Nov 16th, 2017

Nice prop. Good price. Fast shipping! Will use again.


Propeller reviewed on

Oct 6th, 2017

Slick powder coated, cheap and shipped free......great!


Propeller reviewed on

Oct 4th, 2017

Have not had the opportunity to use prop but it appears top quality. Price was great.


Propeller reviewed on

Sep 27th, 2017

I buy aluminum props knowing that they'll get beat up easily. Don't expect the strength of SS and you won't be disappointed.


Propeller reviewed on

Sep 3rd, 2017

Great quality prop, perfect fit and a good price. Delivered in just a few days


Propeller reviewed on

Aug 23rd, 2017

Piece of . I spent more on this that the other options because I thought I would get a higher quality..... wrong . This prop flexes a lot more than he original OEM mercury 4 blade spitfire . Don't go cheap . I lost considerable power hole shot and 7 mph at top speed with this new prop. The chewed up original I was trying to replace was 5 mph faster than this brand new piece of . It will now become a paper weight. How can you people sell this . Unbelievable . I checked to see if the motor was missing a plug it was so slow . And he vibrations were terrible . I'm so disappointed I wasted 160 dollars .


Propeller reviewed on

Aug 16th, 2017

Instead of $100.00 for a propeller I spent $62.00 and the change over was quick and easy


Propeller reviewed on

Aug 7th, 2017

Ok on take off very low top end high rpm on etec 200 pitch says 18 looks different from stainless


Propeller reviewed on

Aug 3rd, 2017

Easy install. Works great. will continue to buy Michigan Wheel products!


Propeller reviewed on

Jul 15th, 2017

It worked great. I needed more RPM's. and with a 2 pitch drop it got me were I needed to be. Thanks


Propeller reviewed on

Jul 9th, 2017

Prop looks great,it shipped fast,and came in packaged very well. I have put in on but haven't ran it yet. But looks great,thanks.


Propeller reviewed on

Jul 5th, 2017

Unless you feel it is absolutely necessary to buy steel this is the prop you want! Works great and it is reasonably priced!


Propeller reviewed on

Jun 3rd, 2017

Great prop


Propeller reviewed on

Mar 28th, 2017

iBoats has a great way to pick the correct prop for your boat. Once I ordered the correct prop it was in the mail the next day and at my house within I week. I was able to track the order while it was enroute.


Propeller reviewed on

Oct 14th, 2016

Is just like the web page discribed..perfect fit


Propeller reviewed on

Oct 4th, 2016

Very happy with this product as a back up prop and worked perfectly for my Yamaha 150 2 stroke outboard motor.


Propeller reviewed on

Oct 3rd, 2016

I like the Michigan props because I can re-use the hub and keep the cost down, The new prop is great for speed. Top speed increased from 39.5 to 48 MPH. Great product.


Propeller reviewed on

Sep 28th, 2016

Being an Engineer, I have always believed in redundancy, or backup, for important parts of an operating system. I purchased this prop as my backup for my new pontoon boat with a Mercury outboard. Very pleased with the product and the price.


Propeller reviewed on

Sep 28th, 2016

Prop will work, just had to leave the original thrust washer in because the new was about a 1/4 inch to short, so the prop sits back a bit more than I like leaving about a 1/8inch gap between gearcase and plastic piece in between prop and gearcase. Other than that all good. Thanks


Propeller reviewed on

Sep 24th, 2016

When purchasing a new prop, when it is not an OEM product, they should tell you what else is needed to attach to your specific motor. I had to purchase the drive mechanism (sold separately) and had to wait almost two weeks before I could install the prop.


Propeller reviewed on

Sep 19th, 2016

I ordered this prop as a backup to one I'd ordered earlier to improve the performance of my fishing boat. The original prop worked so well, and I am so happy, that I ordered a second prop to take with me on fishing trips. (I learned the hard way what it means to be 500 miles from home and have a prop break on a rock in unfamiliar waters.) This prop arrived timely and in excellent condition. I've now had two excellent experiences with iboats, so plan to continue as a customer for future boating needs.


Propeller reviewed on

Sep 9th, 2016

Good product. No problems,no vibration. Installation very simple.


Propeller reviewed on

Sep 8th, 2016

Nice fit and finish on prop. Easy to install on Volvo Penta Cobra Sx using XHS 205 Hub kit. 5000 rpm at WOT. A little slow out of the hole. Might try 19" pitch for better ski performance.


Propeller reviewed on

Sep 5th, 2016

I've never changed out a propeller and it was very simple. Product works great. I have a '97 75hp Force.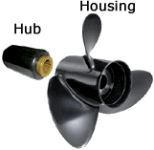 The Hub and Housing make a complete prop
This propeller requires two pieces: a propeller housing and a hub designed to fit your engine. In order for this propeller to work correctly, both parts are needed.
Please choose your engine using the Hub Selection Tool located below the "Add To Cart" button. When your engine is selected, the correct hub is included with your order.
If you do not wish to include a hub with your order or you already have the right hub, please select "No Hub"
Prices listed include both the housing and appropriate hub (if applicable)

The Hub Selection Tool finds the right hub for your propeller