Michigan Wheel Michigan Match 031043 Aluminum Boat Propeller

Representative Prop Photo Only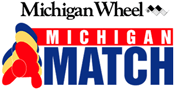 Propeller Specifications:
Part(s): #031043
Manufacturer: Michigan Wheel
Brand:Michigan Match
Material: Aluminum
Diameter: 13
Pitch: 19
Blades: 3
Rotation:

Standard (Clockwise)
Usually Ships Within: 5 Business Days
Comparison Shopping:
View Related Boat Propellers
Free Shipping!
Order now and save even more with NO shipping costs!

• UPS Ground shipping to lower 48 states only
• UPS does not ship to P.O. Boxes

About Michigan Wheel Boat Propellers
Michigan Match Aluminum Boat Propellers
Naval brass spindle
Rubber cushioned hub (Absorbs impact and the stress caused by shifting gears.)
Rubber bushing (Designed to spin free under significant impact, protecting you lower unit)
Costs less
100 years of propeller making experience
Limited lifetime warranty
It fits like your old prop.
It performs better than your old prop.
It costs less than your old prop.
And it's backed by a limited lifetime warranty.
Michigan Wheel has been making props for almost 100 years, longer than some OEMs have been making motors. Thousands of dealers across the country and around the world sell Michigan Wheel props, offering unrivaled inventory of replacement stock, ready for immediate delivery. Every prop is thoroughly inspected to make certain it meets rigid quality standards. This 100 year commitment to quality and performance is the reason more boat owners pick a Michigan Wheel replacement propeller than all other brands combined.
The highest-grade metals are used on Michigan Match propellers - high quality aluminum and tough 15-5 stainless steel alloy. The tighter grain and compact molecular structure of the metal in Michigan Match props make them far less brittle, far less likely to break. It also makes them easily repairable by a qualified repair facility.
| | | |
| --- | --- | --- |
| | | 82% (287) |
| | | 9% (33) |
| | | 2% (8) |
| | | 1% (5) |
| | | 4% (17) |
Scores shown are based on all Michigan Wheel Michigan Match Aluminum propeller reviews.
Not all Michigan Wheel Michigan Match Aluminum reviews may be shown on this page.
Click See All Reviews to view all Michigan Wheel Michigan Match Aluminum propeller reviews
Propeller reviewed on

Apr 6th, 2021

Was told it's on back order, still a no show with my tracking # email, so I quess it's stuck in the Suez canal.


Propeller reviewed on

Oct 1st, 2020

Great fit and great condition!


Propeller reviewed on

Sep 9th, 2020

This prop did not fit correctly. Upon install the spline shaft extended 1/4 beyond hub. Had to fabricate two washers used as spacers so prop nut had a flat bearing surface to tighten on to. The blade pattern looked nothing like its picture on web site. This prop replaced another Michigan prop (Wheel) same pitch although the diameter 1/4 inch less. Previous prop ran my 140hp 4 stroke Suzuki pushing a 25 foot tri toon right at manufactures max 6000 rpm full throttle. This prop exceeded redline by 600-700 rpm. Huge difference. Was it the shape of blades or the 1/4 inch less diameter? Also if it matters this prop manufactured in Korea. Not made domestically. So 2 biggest gripes, fit was not correct due to needing washers as spacers and huge rpm increase with same pitch as my previous Michigan Wheel prop. The (Wheel) prop out of stock or would have ordered. Was trying to get back on water quickly so ordered Match prop. I will say IBoats shipping was fast. Received order in 3 days from date of ordering.


Propeller reviewed on

Sep 8th, 2020

When I entered a wrong ship to zip code by mistake Max fixed me up right away. Thanks Max and Iboats.


Propeller reviewed on

Aug 24th, 2020

I bought this prop because the used boat I bought had to high of a pitch for the 35hp Suzuki outboard it came with. It took way to long to get on a plane, so I decided to buy this prop with 2 less pitch. I took my boat out this weekend to fish and I was very happy with my purchase. This prop is great quality, mounted on easy, and got my 16' smokercraft on a plane in less than 3 seconds. I felt a difference, the boat shot out of the water and I only lost 1mph in top speed going from a 14 to this 12 pitch prop.


Propeller reviewed on

Aug 17th, 2020

I carry a spare prop for all my boat engines. The factory prop for this motor was very expensive so I looked for an alternative model of this unusual size and pitch. Found that I boats had the right prop at the best price and it arrived in 2 days with regular free shipping. Very pleased with the quality and it fits perfectly.


Propeller reviewed on

Jul 29th, 2020

Would love to review this if it ever shows up! Still waiting.


Propeller reviewed on

Jul 27th, 2020

With your listing of a different prop than I ordered does not give me confidence in your customer service.


Propeller reviewed on

Jul 12th, 2020

fit good


Propeller reviewed on

Jun 23rd, 2020

Excellent choice replacing my old Michigan Wheel Prop for my Johnson 28 Special. Pushes my 20 ft. pontoon very well. Fit and finish is flawless. Made in my state and not China. I highly recommend this brand if you are looking for a new prop.


Propeller reviewed on

May 31st, 2020

Very good product


Propeller reviewed on

May 30th, 2020

I recently ordered a new prop for my boat after installing and using the boat I am very impressed and satisfied with the outcome of the prop


Propeller reviewed on

May 2nd, 2020

Fast shipping. Accurate with description as advertised. Works Great. Highly recommend buying from Seller. Will buy from seller again.


Propeller reviewed on

Feb 7th, 2020

Looks great!


Propeller reviewed on

Sep 13th, 2019

I purchased the wrong prop before I did my research, I thought all props were the same you just need the correct splin match for your out drive, pitch / diameter. Not so. You can see and feel the quality of a Michigan wheel propeller. i bought a prop off the shelf from the marine store. You can see how cheaply it was made and how the splin gear was a thin peace of metal inserted into a plasict holder that you insert into the propeller. If you hit a thick peace of kelp you'd be in trouble. Michigan propellers on the other hand have a thick brass gear prest in the propeller and will not be easily damaged. It performs extreamly well in all conditions. Oh by the way I saved $65.00 by ordering my Michigan's wheel propeller Not only was the marine store more expensive it was cheap product.


Propeller reviewed on

Aug 16th, 2019

It fit great and performed awesome super product and the price was great!


Propeller reviewed on

Aug 27th, 2018

I got this for my 90 horse Suzuki. My home lake is full of stumps, and it is being lowered in case of a hurricane. I chose an Aluminum prop, so that the prop will bend(or break) if I hit a stump hard, but my prop shaft will not be damaged. This wheel is much higher quality than I expected. The finish and trueness are very good. I bought a 14x15, but will order a 14x17 to have some flexibility when the water comes back up.


Propeller reviewed on

Aug 17th, 2018

iboats.com is the GO TO PLACE, for all your boating needs! I highly recommend!!!


Propeller reviewed on

Aug 14th, 2018

Product arrived on time and in well protected package. I will order again from this company.


Propeller reviewed on

Aug 6th, 2018

Excellent website easy to find what you need! Excellent prices and fast shipping!


Propeller reviewed on

Jul 31st, 2018

Wow, my new Yamaha outboard propeller arrived 1 day after ordering, lightning fast. Looks to be exactly as described, will try it out on the next fishing trip, thanks IBoats!


Propeller reviewed on

Jul 30th, 2018

I wish iBoats was in Canada. Great product, fast shipping, because they have their own broker. Great service, and I am very, very happy to have a new prop for my 1964 Johnson 40 HP. Brand new, not re-painted and the edges ground down ending up with an unbalanced propeller. Michigan made a great prop. Thank you iBoats. Now I have a fuel problem, it never ends with an older 2 stroke but I love the smell, I love the sound, I love the performance when it is working properly.


Propeller reviewed on

Jun 22nd, 2018

I found this prop to replace the bent one on my 1990 outboard. Fit perfectly and was shipped fast.


Propeller reviewed on

Feb 23rd, 2018

I am running a Johnson 140 looper on a 21 Stamas cruiser with stainless bracket (aluminum bracket). I can turn this prop 5500 plus. the boat will run 33 mph. jumps up good. very little cavitation. prop works good. nice looking appearance.


Propeller reviewed on

Nov 3rd, 2017

Easy to install and my boat has better performance


Propeller reviewed on

Oct 23rd, 2017

Product was just what i needed, my old one was pretty beat up.


Propeller reviewed on

Oct 22nd, 2017

very good quality. fast shipping . happy


Propeller reviewed on

Oct 11th, 2017

Product arrived quickly and exactly as described.


Propeller reviewed on

Oct 9th, 2017

Your site's filters really helped me order the right prop and it ended up working perfectly. Will definitely come back with all my part needs.


Propeller reviewed on

Oct 9th, 2017

Fits well.