Michigan Wheel Apollo 993052 Stainless Steel Boat Propeller

Representative Prop Photo Only

Propeller Specifications:
Part(s): #993052
Manufacturer: Michigan Wheel
Brand:Apollo XHS
Material: Stainless Steel
Diameter: 14 - 3/8
Pitch: 15
Blades: 3
Rotation:

Counter (Counter-Clockwise)
Usually Ships Within: 25 Business Days
Comparison Shopping:
View Related Boat Propellers
Free Shipping!
Order now and save even more with NO shipping costs!

• UPS Ground shipping to lower 48 states only
• UPS does not ship to P.O. Boxes

About Michigan Wheel Boat Propellers
Apollo Stainless Steel Boat Propellers
Universal blade design which lowers the stock and maintenance cost.
Tough heavy-duty rubber bushing.
DIY Rebushing
Larger exhaust (increases horse power by 5%-10%)
No more rubber slipping problem
| | | |
| --- | --- | --- |
| | | 73% (53) |
| | | 15% (11) |
| | | 2% (2) |
| | | 4% (3) |
| | | 4% (3) |
Scores shown are based on all Michigan Wheel Apollo propeller reviews.
Not all Michigan Wheel Apollo reviews may be shown on this page.
Click See All Reviews to view all Michigan Wheel Apollo propeller reviews
Propeller reviewed on

Aug 17th, 2020

Replaced 21" pitch 3-blade with this 20" pitch 4-blade. Better performance out of the hole. Can stay on plane at 100rpm lower. Did not notice any degradation in top end performance either. I am happy with the switch to a 4-blade. Seems all positive to me.


Propeller reviewed on

Dec 23rd, 2017

Easy to install and looks great, just need spring to get here so I can really test it !!


Propeller reviewed on

Oct 17th, 2017

The prop arrived in a well designed box, inside another box, very well protected. Easy to instal just removed the old one and put this new one in its place, tightened the nut down put the cotter pin back and ready to use. The performance was noticable right away, I bought the new prop with the exact same pitch and diameter as the one it was replacing so I didnt expect miracles, jut a longer life and cooler looking propeller, well the performance was actualy noticable, the boat come out of the hole faster, and planes a bit faster, on the top end, its not any faster (WOT) but at the same crusing RPM (4500) I did pick up about 1.25 MPH and the sound is a bit throatier, so thats cool also, all in all a good prop for a good price, very satifsfied with my purchase.


Propeller reviewed on

Sep 15th, 2017

Perfect. Piece of art!


Propeller reviewed on

Mar 15th, 2017

The prop was just as expected. I considered it a good value and the purchasing process was easy and understandable. Received it in just a few days after placing my order.


Propeller reviewed on

Jan 22nd, 2017

The Prop I received seems to meet the specs I wanted.


Propeller reviewed on

Oct 4th, 2016

Great SS Prop that works very well with my Yamaha 150 2 stroke outboard motor. 21 pitch which has made a huge difference in ride of my Skeeter vs the 23 pitch I had.


Propeller reviewed on

Aug 20th, 2016

Prop showed up fast, looks great. Replaced OEM aluminum w stainless, same pitch dia. Boat performs much better out of hole, fells like its on rails when turning! The boat has more "grip". Top end about the same. Extremely satisfied!


Propeller reviewed on

Jul 23rd, 2016

Great propellor High Quality finish, works great on my boat. and quick delivery! Thank you!


Propeller reviewed on

Jul 19th, 2016

Haven't yet used the prop I'm in Iowa and my boat is in Texas. But I'm sure I'll be happy with it, as I've used Michigan Wheel props before.


Propeller reviewed on

Jul 17th, 2016

The prop hold water tighter than same pitch al. prop. Top speed reached at lower rpm that previous 15 in alu. prop.


Propeller reviewed on

Jul 14th, 2015

Ordered both rotations of this propeller for my Pursuit ST310 powered with 300hp Yahama's. Ordered per instructions for non-OEM propeller provided on this website. Initially did do because they are about 60% the price of the OEM propellers. Don't waste your money. Buy the Yamaha propeller. These performed very poorly. Engine ran very rough and the exhaust porting is completely different and apparently much more restrictive than the OEM version. Used these about 30 minutes and replaced with OEM versions. That's $700 down the drain!


Propeller reviewed on

Jun 30th, 2015

Mounted on Yamaha f200xb. Pushing fully loaded Kingfisher 2025 HHT to 48mph and offers limited slip. Expect prop chatter between 600 and 900 rpm.


Propeller reviewed on

Jun 13th, 2015

I used the sizing chart to pick a new size prop for my boat. I fit perfectly ,was made very well and looked great. Hub kit was in box so I didn't have to order anything else. Shipping was very fast. Very good experience for first time customer.


Propeller reviewed on

May 19th, 2015

Looks good performs well priced well. Good replacement for cast aluminum props Mercury put on their 60 hp 4-cycle outboard for a Bass Tracker TXW175. Instructions for hub and install of both easy to follow and accurate.


Propeller reviewed on

May 12th, 2015

Prop seems fine no problems quick delivery


Propeller reviewed on

Apr 28th, 2015

Works great and happy with quality of prop


Propeller reviewed on

Mar 3rd, 2015

Very easy to install and the quality looks awesome!


Propeller reviewed on

Sep 17th, 2014

Great prop,good price


Propeller reviewed on

May 27th, 2014

Purchased for tracker team 185 with 75 hp mercury. Boat runs down the lake better than ever.


Propeller reviewed on

May 18th, 2014

Perfect prop for my Tracker Targa 18 with a 115 Mercury four stroke. Nice and smooth, comes out of the hole with power, no cavitation, great prop for the money!


Propeller reviewed on

Feb 26th, 2014

After installing this prop on my 60 merc, I found that my top end was 4-5 mph faster than with old aluminum. Old prop was 100% shape with no wear, so it wasn't that it was damaged or old. Very pleased with the Mich Wheel, and it looks great on the motor too! Talked to Melissa when I ordered this, and she was very helpful on getting me the right one.


Propeller reviewed on

Jul 30th, 2013

Great !


Propeller reviewed on

Jul 23rd, 2013

Went from a stainless steel 3 blade 19 pitch 14 3/4, to this 4 blade stainless steel 18 pitch and could not tell a difference. Hole shot didn't change at all.


Propeller reviewed on

Jul 16th, 2013

Replaced a 21" Al with this 20" 4 blade. Better pull for a skier with no noticeable speed change.


Propeller reviewed on

Jul 16th, 2013

I just want to take the time to thank iboats for their product support and prompt service. They are the best place to purchase high quality parts and service, I am very pleased with my 4 blade prop. Thanks Donnie Smith


Propeller reviewed on

Jul 13th, 2013

Great product


Propeller reviewed on

Jul 7th, 2013

pretty happy so far


Propeller reviewed on

Jun 24th, 2013

Prop looks good. Installation was simple. Missing one washer for proper insstallation, this should have been in purchased kit. Have yet had a chance to try out prop.


Propeller reviewed on

Jun 21st, 2013

Great prop , and a greater deal !!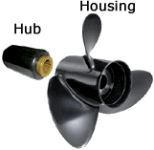 The Hub and Housing make a complete prop
This propeller requires two pieces: a propeller housing and a hub designed to fit your engine. In order for this propeller to work correctly, both parts are needed.
Please choose your engine using the Hub Selection Tool located below the "Add To Cart" button. When your engine is selected, the correct hub is included with your order.
If you do not wish to include a hub with your order or you already have the right hub, please select "No Hub"
Prices listed include both the housing and appropriate hub (if applicable)

The Hub Selection Tool finds the right hub for your propeller