Mercury Marine Trophy Plus 48-825932A46 Stainless Steel Boat Propeller

Representative Prop Photo Only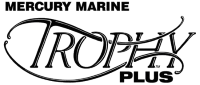 Propeller Specifications:
Part(s): #48-825932A46
Manufacturer: Mercury Marine
Brand:Trophy Plus
Material: Stainless Steel
Diameter: 13 - 3/4
Pitch: 19
Blades: 4
Rotation:

Standard (Clockwise)
Usually Ships Within: Business Day
Comparison Shopping:
View Related Boat Propellers
About Mercury Marine Boat Propellers
Trophy Plus Stainless Steel Boat Propellers
Top-speed Steady - Nail every tight turn. Hold firm at any speed.

Want to get your fishing boat on plane fast? Check out the Trophy Plus. The Trophy Plus is legendary for its amazing hole shots and eye-watering acceleration. Its four stainless steel blades stay hooked up better in tight turns, making for incredible boat handling. For use with mid-range and V-6 Outboards up to 225 HP.

If engine RPM's are good with 3-blade prop, replace with the same pitch Trophy Plus

Quicker hole shots, great speed, particularly at high engine heights
Dramatically improves handling and reduces steering loads
Small tube hub allows for added exhaust venting over the hub for improved hole shot
Available pitches: 17, 19, 21, 23, 24, 25, 26, 27, 28 (17 and 19 Pitch designed for 75-115 HP outboards; Higher pitch propellers designed for 135 HP -225 HP outboards)
Rotation: RH
Number of blades: 4
Performance vent system (PVS)
Material: Stainless Steel
Boat types: Aluminum, Bass, Bowrider, Deckboat, Fish-n-ski, Inshore Fishing, Multi-species, Offshore fishing
Fits: Outboards 135hp and above
Recommended for: 75hp - 115hp multi-species, bass or flats boats, Outboard-powered bass boats more than 135hp
Equipped with: 835257K6 hub kit
If venting is excessive, a seal ring 878421 allows the exhaust to pass through the inner hub.