Evinrude Johnson Cyclone 763936 Stainless Steel Boat Propeller

Representative Prop Photo Only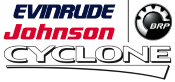 Propeller Specifications:
Part(s): #763936
Manufacturer: Evinrude Johnson
Brand:Cyclone
Material: Stainless Steel
Diameter: 14 - 1/2
Pitch: 15
Blades: 4
Rotation:

Standard (Clockwise)
Usually Ships Within: Business Day
Comparison Shopping:
View Related Boat Propellers
About Evinrude Johnson Boat Propellers
Cyclone Stainless Steel Boat Propellers
When you need a prop that can hold course straight and true in all water conditions, trust the Cyclone prop to maintain compass headings and stay hooked up in big water.

Designed for heavier and twin-engine boats as well as runabouts.

Cyclone uses the TBX hub system.


Ultimate performance 4-blade offshore and runabout propeller
Stays on plane with minimum RPM
Tracks true in all water conditions
Less vibrations and improved fuel economy
V6 engines