Turning Point Boat Propellers
About Turning Point Boat Propellers

Turning Point is a metallurgy company. 15 years ago they began producing propellers and are now one of the world's largest propeller manufacturers. With their background in metal, Turning Point has implemented huge improvements in propeller design. They use the latest metallurgy technologies, all new tooling, and aggressive designs to maximize propulsive efficiency.
Propellers engineered to make a great boat better + Lifetime Hub Warranty.
Aluminum Propellers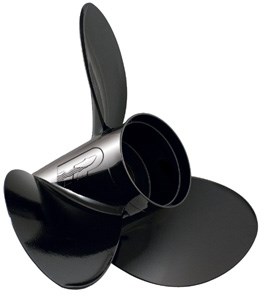 Hustler Stainless Steel Performance at Aluminum Prices
Hustler aluminum boat propellers for 8 – 300+hp
Turning Point offers the best handling and cornering aluminum props available! The highly efficient design equals better fuel economy, better top end, faster hole shot, and excellent cornering and handling.


Tuned Vents for Fast Hole Shot - Vent holes in the prop barrel allow the propeller blades to spin faster at slower speeds. This give you more horsepower, faster acceleration and a faster hole shot. Turning Point is the only manufacturer that offers this race proven feature on aluminum props.
Performance Tuned Rake Angles - Higher rake angles tighten the vortex produced by the propellers, adding to boat lift and overall performance.
Squeeze Cast for Added Strength - Strong and stiff blade tips. Eliminates air bubbles in metal that make die-cast competitor's blades weak and inefficient.
High Flow-Through Barrel Exhaust System - Maximizing exhaust flow increases horsepower and top end speed.
Tuned Progressive Pitch Angles - Accelerating anc channeling water to minimize slip increases performance and fuel economy.
Long Lasting Powder Coated Finish - 5 step process creates a durable, high quality finish that protects the aluminum from corrosion better than competitor's painted finishes.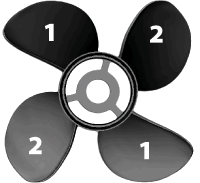 New Four Blade Design is uniquely engineered with two blade geometries:
2 blades with high performance variable rake and aggressive pitch design for incredible hole hot and cornering.
2 blades with an offshore style design for high speed and maximum stern lift.
This combination gives you the highest performance aluminum propeller on the market. It offers all the benefits of 4-blade propellers without the usual top speed reductions common with other 4-blade designs. The improvements at mid-range, cruising speeds offer huge gas economy advantages.
Recent tests reveal that new Hustler Aluminum Propellers have up to 46% more reverse thrust over all competitive propeller designs.
When switching from a 3-blade to the Hustler 4-blade, use the same pitch unless you need to adjust your current wide open throttle RPM.
Stainless Steel Propellers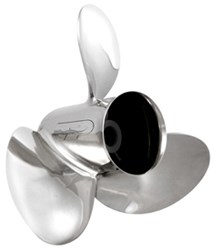 Express Industry Leading Stainless Steel Designs
Express stainless steel boat propellers for 9.9 – 300+hp

Combine Turning Point's innovative designs with quality metals and you've got an amazing propeller. Express propellers are made from 15-5 stainless steel. This metal gets harder and stronger with age.


Unmatched Durability and Longevity with Polished Finish
Reduces or Eliminates Prop Slip or Blow Out in Turns
Thin Blade Design Maximizes Top Speed and Fuel Economy
Tuned Vents for Fast Hole Shot
Aggressively Designed Cupping and Trailing Edges
Turning Point Hub System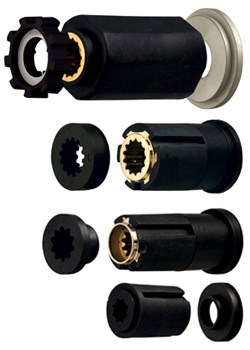 Turning Point hubs feature a Lifetime Warranty. This is the only prop hub warranty in the industry. This hub system is engineered to hold up over time without spinning, cracking or failing during normal use.

Turning Point only uses the best materials. Glass filled mylon is molded over brass splines to give you a lifetime of use. The simple hub design eliminates failures commonly seen with multi-part "sleeve and spline" designs, and pressed-in rubber hub systems.
Reduce Gear Shock and Engine/Drive Damage - Shock absorbing high-tech polymer cushion.
Minimize Propeller Vibration and Chatter
Corrosion Resistant Brass Splines and Nylon
Ends Hub Cracking and Failure - The glass reinforced high-tech polymer construction increases flexibility, eliminating potential material stress fractures.
Save 20-30% on Future Replacements - Lifetime warranty hub kits are designed to be reusable even after most propeller impacts.
Changing your aluminum or stainless propller is easy with Turning Point's hub system. Each Hub's one piece design ensures simple housing replacement, making a prop change quick and easy.

Interchangeable Upgrade to Competitors Hub and Prop Systems
The Turning Point 500 Series hub kits are an interchangable upgrade for several other hub systems, including: Mercury® Flo-Torq®, Michigan Wheel® XHS® and Solas® Rubex®.
Turning Point Propeller Performance Test
Turning Point's superior aluminum props give you stainless steel performance at aluminum pricing. Not only does top speed, handling and hole shot improve, but also mid-range performance, which will save you a ton in gas usage.
Testing was done on Saratoga Lake, NY.
Boat type: 1996 Sea Ray 230 BR Signature Select
Boat engine: Merc Magnum 365hp MPI 454 7.4L Bravo One
Propeller
Top Speed
(MPH)
WOT RPM
Midrange
Handling Rating
Plane Time
(Seconds)
OEM 3-blade SS, 23 pitch
45
4900
4K-36mph
2
12.0
OEM 4-blade AL, 20 pitch
47
5400
4K-36mph
3
10.0
Competitor A 4-blade AL, 21 pitch
44
4600
4K-39mph, 3.5K-36mph
3
14.0
Competitor A 4-blade AL, 23 pitch
46
4850
1
20.0
Competitor B 4-blade AL, 20 pitch
46
5200
4K-37mph, 3.8K-36mph
3
10.0
TP Hustler 4-blade AL, 21 pitch
51
4900
4K-40mph, 3.4K-36mph
5
10.0
TP Hustler 3-blade AL, 21 pitch
51
5200
4K-39mph, 3.8K-36mph
4
9.5
TP Express 4-blade SS, 21 pitch
51
4800
4K-43mph, 3.5K-36mph
5
9.0
5 - Prop holds throughout turns
4 - Ventilates after apex of the turns (slip, gain a few RPM)
3 - Ventilates at apex of the turns
2 - Light ventilation throughout the turns
1 - Excess ventilation throughout the turns and after turns