Stiletto Boat Propellers
About Stiletto Boat Propellers
Superior Blade Design
All Stiletto Propellers are of a progressive pitch design. Cupped blades help reduce the chance of cavitation, therefore, increasing the efficiency and performance of your engine.
Total Performance
Stiletto Propellers are designed to help each boat and engine combination achieve its peak performance at all throttle levels: low end, mid-range, and top end. Stiletto Propellers are designed to outperform the mass produced aluminum and stainless steel stock/utility propellers. The outer hub is vented to allow some of the exhaust gases to escape preceding each blade. This helps eliminate performance robbing vacuums that occur behind the blades. Stiletto props are made in the USA.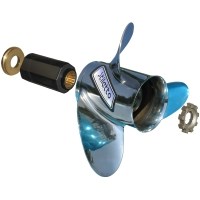 TRIAD Propellers
The TRIAD provides a higher performance level in all areas of operation.
This series is the perfect replacement for those wanting better performance over-all, at a very reasonable price.
The quality of the Triad series is second to none in it's class and will provide years of use and trouble-free operation.
TRIAD I Propellers
TRIAD II Propellers
TRIAD Propellers + Guardian Hub
STAR Propellers
The overall capabilities of this prop will enhance the your boat's perfomance.
Stiletto props are built with your boating needs in mind.
STAR Propellers
STAR Propellers + Guardian Hub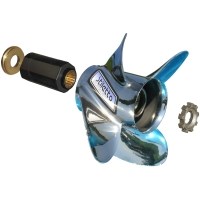 Guardian Hubs
Guardian SQ-Lok hubs, used with most Stiletto propellers, are designed to take the punishing power and exhaust heat today's modern marine engines deliver.
They feature heavy-duty construction with a nylon center core and a molded-in interlocking brass spline insert for extra strength and durability.
Guardian Hubs are easy to install with common tools, and come with the necessary hardware, to help get you moving quickly and easily.