Solas Boat Propellers
About Solas Boat Propellers
Solas Boat Propellers Founded in 1985, SOLAS is now one of the most well known and trusted names in outboard and stern drive propellers. SOLAS' success is largely due to superior propeller design and craftsmanship.

High Precision Design All SOLAS propellers are developed through a state of the art process. Using theoretical calculations, geometry design, modern CAD technologies, prototype testing, pilot production and field tests, SOLAS props are designed to be superior to other propellers.

#1 Ranked Propeller Numerous tests conducted by major media authorities have proven that SOLAS propellers stand up to collisions better than the competitors'. Long term durability studies have shown that SOLAS propellers' resistance against corrosion outperforms all others in their class.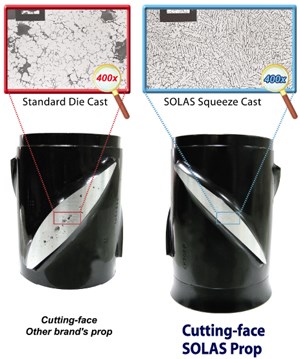 SOLAS uses a state of the art squeeze casting process to make their aluminum propellers stonger and tougher than traditional die cast props. SOLAS aluminum propellers have 4 layers of paint. Using superior coatings ensures excellent anti-corrosion performance.

SOLAS stainless steel propellers feature the industry's highest percentage of chromium, nickel and molybdenum. These materials resist corrosion and increase the stability of the propeller blades. Performance and durability are the characteristics of the SOLAS stainless steel products.