Solas B3
#1651-144-18

Stainless Steel Boat Propeller Yanmar ZT350 Drive Sterndrive Any HP

Representative Prop Photo Only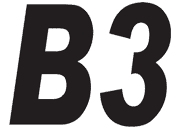 Propeller Specifications:
Part(s): #1651-144-18
Manufacturer: Solas
Brand:B3
Material: Stainless Steel
Diameter: 14 - 3/8
Pitch: 18
Blades: 3
Rotation:

Standard (Clockwise)
Usually Ships Within: 1 Business Day
Prop Hardware: All required propeller hardware may not be available. Consult engine manual for hardware requirements.
Rear Propeller is positioned furthest from the boat.
Free Shipping!
Order now and save even more with NO shipping costs!

• UPS Ground shipping to lower 48 states only
• UPS does not ship to P.O. Boxes

About Solas Boat Propellers
B3 Stainless Steel Boat Propellers
Solas B3 Propellers are available in a variety of pitches for both the front and rear propeller.
Stainless steel propeller.
Provides great stern lift and acceleration.
High rake blade with large cupping design for high efficiency at greater speeds and minimizing cavitation under heavy loads.
Delivers powerful thrust and very smooth performance.
Increased speed and fuel efficiency in engines mid-range.
Solas stainless steel propellers feature the industries highest percentage of chromium, nickel and molybdenum materials to resist rust from salt water and increase the stability of the propeller blades.
Solas B3 Props may require special tools to install. This prop requires OEM hardware to install. Please consult OEM manual for proper installation and torque specs.