Volvo Penta DuoProp - Type D Single
#3851422

Aluminum Boat Propeller Volvo Penta DPS-A Drive Sterndrive Any HP

Representative Prop Photo Only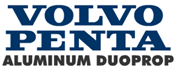 Propeller Specifications:
Part(s): #3851422
Manufacturer: Volvo Penta
Brand: DuoProp - Type D Single
Material: Aluminum
Size Code: D2
Blades: Front - 3
Rotation:

Counter (Counter-Clockwise)
Usually Ships Within: 5 Business Days
Prop Hardware: All required propeller hardware may not be available. Consult engine manual for hardware requirements.
Free Shipping!
Order now and save even more with NO shipping costs!

• UPS Ground shipping to lower 48 states only
• UPS does not ship to P.O. Boxes

About Volvo Penta Boat Propellers
DuoProp - Type D Single Aluminum Boat Propellers
Aluminum DuoProp D Series propeller for all gasoline and diesel engines using the DPS drive, with speeds up to 35 knots.
Note: For all engines with speeds in excess of 35 knots, the stainless steel Type F propeller should be used.
This is an OEM single piece replacement of the Volvo Penta DuoProp system.