Volvo Penta DuoProp - Type G Single 3587395 Nibral Boat Propeller

Representative Prop Photo Only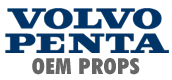 Propeller Specifications:
Part(s): #3587395
Manufacturer: Volvo Penta
Brand: DuoProp - Type G Single
Material: Nibral
Size Code: G6
Blades: Front - 3
Rotation:

Counter (Counter-Clockwise)
Usually Ships Within: Business Day
Comparison Shopping:
View Related Boat Propellers
About Volvo Penta Boat Propellers
DuoProp - Type G Single Nibral Boat Propellers
The new generation DuoProp G Series propellers has been specially developed to handle the tremendous torque and power from the D4 and D6 engines.
Performance is outstanding and the special nickel-bronze-bronze (Nibral) alloy complete with full electric isolation ensures no growth and excellent corrosion resistance.
This is an OEM single piece replacement of the Volvo Penta DuoProp system.