Volvo Penta DuoProp - Type D Single 3856356 Aluminum Boat Propeller

Representative Prop Photo Only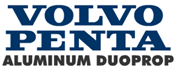 Propeller Specifications:
Part(s): #3856356
Manufacturer: Volvo Penta
Brand: DuoProp - Type D Single
Material: Aluminum
Size Code: D6
Blades: Rear - 3
Rotation:

Standard (Clockwise)
Usually Ships Within: Business Day
Comparison Shopping:
View Related Boat Propellers
About Volvo Penta Boat Propellers
DuoProp - Type D Single Aluminum Boat Propellers
Aluminum DuoProp D Series propeller for all gasoline and diesel engines using the DPS drive, with speeds up to 35 knots.
Note: For all engines with speeds in excess of 35 knots, the stainless steel Type F propeller should be used.
This is an OEM single piece replacement of the Volvo Penta DuoProp system.