Michigan Wheel Vortex XHS
#941417

Aluminum Boat Propeller U.S. Marine 90 HP Outboard 1995 - 1996 Mercury 4-¼ Gearcase

Representative Prop Photo Only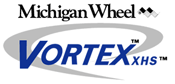 Propeller Specifications:
Part(s):

Prop

#941417

Hub

#202
Manufacturer: Michigan Wheel
Brand:Vortex XHS
Material: Aluminum
Diameter: 13
Pitch: 17
Blades: 4
Rotation:

Standard (Clockwise)
Usually Ships Within: 5 Business Days
Prop Hardware: All required propeller hardware may not be available. Consult engine manual for hardware requirements.
Free Shipping!
Order now and save even more with NO shipping costs!

• UPS Ground shipping to lower 48 states only
• UPS does not ship to P.O. Boxes

About Michigan Wheel Boat Propellers
Vortex XHS Aluminum Boat Propellers
High Gloss Powder Coat (protects aluminum from corrosion)
Optimal Blade Thickness
Cupped Trailing Blade Edge (better grab)
Exchangeable Hub System
Urethane cushioned hub (protects your lower unit from damage)
Flared Hub Design (prevents ventilation blow-out)
Interchangeable with the Mercury Flo Torq II exchangeable hub system.
100 years of propeller manufacturing experience
Limited lifetime warranty
High Performance aluminum replacement props with high gloss, black, powder coat finish. Interchangeable with Mercury Flo Torq II exchangeable hub system. Vortex and XHS fit most engine applications.
XHS Exchangeable Hub System absorbs impact and stress caused by shifting gears. The urethane-cushioned hub is designed to spin under significant impact, reducing the potential for costly lower unit damage.