Stiletto Bay Pro II 25422 Stainless Steel Boat Propeller

Representative Prop Photo Only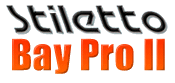 Propeller Specifications:
Part(s): #25422
Manufacturer: Stiletto
Brand:Bay Pro II
Material: Stainless Steel
Diameter: 14 - 1/4
Pitch: 22
Blades: 4
Rotation:

Standard (Clockwise)
Usually Ships Within: Business Day
Comparison Shopping:
View Related Boat Propellers
About Stiletto Boat Propellers
Bay Pro II Stainless Steel Boat Propellers
The BAY PRO II series of propellers offers similar characteristics for the 150 horsepower and greater outboards and most stern drive applications. When 4-blade performance is desired, this durable, stable and solid performing series will show the way.
SUPERIOR BLADE DESIGN - Stiletto Propellers are truly the stainless edge. All Stiletto Propellers are of a progressive pitch design. Cupped blades help reduce the chance of cavitation, therefore, increasing the efficiency and performance of your engine.
TOTAL PERFORMANCE - Stiletto Propellers are designed to help each boat and engine combination achieve its peak performance at all throttle levels: low end, mid-range, and top end. Stiletto Propellers are designed to outperform the mass produced aluminum and stainless steel stock/utility propellers. The outer hub is vented to allow some of the exhaust gases to escape preceding each blade. This helps eliminate performance-robbing vacuums that occur behind the blades. Stiletto props are made in the USA.
RELIABILITY - Stiletto Propellers are one-piece investment cast for exceptional strength and safety. This manufacturing process provides superior consistency in blade shape and accuracy in pitch. Some so-called performance propellers are produced using welded-on blades, which are not as structurally sound nor are they as reliable as a one-piece casting.