Stiletto Bay Pro I 34417 Stainless Steel Boat Propeller

Representative Prop Photo Only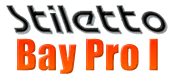 Propeller Specifications:
Part(s): #34417
Manufacturer: Stiletto
Brand:Bay Pro I
Material: Stainless Steel
Diameter: 13 - 1/4
Pitch: 17
Blades: 4
Rotation:

Standard (Clockwise)
Usually Ships Within: Business Day
Comparison Shopping:
View Related Boat Propellers
About Stiletto Boat Propellers
Bay Pro I Stainless Steel Boat Propellers
The BAY PRO I series is available for 70-140 horsepower outboards with intermediate gearcases. The BAY PRO I series propellers give flats, walleye and utilities fast acceleration, total boat lift and the ability to "hang on" in rough waters.
SUPERIOR BLADE DESIGN - Stiletto Propellers are truly the stainless edge. All Stiletto Propellers are of a progressive pitch design. Cupped blades help reduce the chance of cavitation, therefore, increasing the efficiency and performance of your engine.
TOTAL PERFORMANCE - Stiletto Propellers are designed to help each boat and engine combination achieve its peak performance at all throttle levels: low end, mid-range, and top end. Stiletto Propellers are designed to outperform the mass produced aluminum and stainless steel stock/utility propellers. The outer hub is vented to allow some of the exhaust gases to escape preceding each blade. This helps eliminate performance-robbing vacuums that occur behind the blades. Stiletto props are made in the USA.
RELIABILITY - Stiletto Propellers are one-piece investment cast for exceptional strength and safety. This manufacturing process provides superior consistency in blade shape and accuracy in pitch. Some so-called performance propellers are produced using welded-on blades, which are not as structurally sound nor are they as reliable as a one-piece casting.