Stiletto Advantage I 31215 Stainless Steel Boat Propeller

Representative Prop Photo Only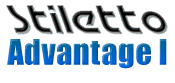 Propeller Specifications:
Part(s): #31215
Manufacturer: Stiletto
Brand:Advantage I
Material: Stainless Steel
Diameter: 13 - 1/4
Pitch: 15
Blades: 3
Rotation:

Counter (Counter-Clockwise)
Usually Ships Within: Business Day
Comparison Shopping:
View Related Boat Propellers
About Stiletto Boat Propellers
Advantage I Stainless Steel Boat Propellers
Excellent hole shot, strong mid-range acceleration, and top speed describe the Stiletto ADVANTAGE Stainless Steel Boat Propeller Series of propellers. This series gives you the advantage when skiing, carrying loads and in adverse water conditions. This is the choice for all around performance; it's your ADVANTAGE. Stiletto props are made in the USA.
The ADVANTAGE I series is designed for 70-140 horsepower outboards with intermediate gearcases.
SUPERIOR BLADE DESIGN - Stiletto Propellers are truly the stainless edge. All Stiletto Propellers are of a progressive pitch design. Cupped blades help reduce the chance of cavitation, therefore, increasing the efficiency and performance of your engine.
TOTAL PERFORMANCE - Stiletto Propellers are designed to help each boat and engine combination achieve its peak performance at all throttle levels: low end, mid-range, and top end. Stiletto Propellers are designed to outperform the mass produced aluminum and stainless steel stock/utility propellers. Stiletto props are made in the USA.
RELIABILITY - Stiletto Propellers are one-piece investment cast for exceptional strength and safety. This manufacturing process provides superior consistency in blade shape and accuracy in pitch. Some so-called performance propellers are produced using welded-on blades, which are not as structurally sound nor are they as reliable as a one-piece casting.
Reviews for Stiletto Advantage I Propellers
| | | |
| --- | --- | --- |
| | | 100% (5) |
| | | 0% (0) |
| | | 0% (0) |
| | | 0% (0) |
| | | 0% (0) |
Scores shown are based on all Stiletto Advantage I propeller reviews.
Propeller reviewed on

Aug 24th, 2015

Part was delivered on time, in perfect condition, was exactly as advertised, I couldn't be happier and will order again from iboats!


Propeller reviewed on

Jul 18th, 2014

Could not ask for more.


Propeller reviewed on

May 5th, 2014

1 out of 1 users found this review helpful

I have been running Precision Propeller Turbo and Stiletto-branded props, in addition to several PowerTec models over the past 35 years. Even though I have owned and had very good luck also with Solas props, I like to keep my dollars at work in this country helping someone have a decent job in the outdoor recreation/marine industry. This is a 5/16" 3-ported, 3-bladed, fairly high rake prop with significant cupping on the trailing edges of the fairly large blade areas. Beautiful polishing this prop provides significant bow lift for my bassboat application, yet also delivers great top end speed from higher trim capabilities really helps keep air under the hull without feeling like you are loosing control of the boat or getting "squirrelly" in higher speed turns. This prop is every bit on par with any of the entry level Mercury props. When you compare the prices between Turbo, Mercury Laser, Powertec, Stiletto, and Solas, it is easy to see a cost justification in favor of this prop. These are terrific value for your boating dollar, and I recommend them without reservation!


Propeller reviewed on

Oct 25th, 2012

Good propeller quick shipping thank


Propeller reviewed on

Mar 4th, 2009

No customer notes included