Solas RUBEX S3 9561-151-27 Stainless Steel Boat Propeller

Representative Prop Photo Only

Propeller Specifications:
Part(s): #9561-151-27
Manufacturer: Solas
Brand:RUBEX S3
Material: Stainless Steel
Diameter: 15 - 1/8
Pitch: 27
Blades: 3
Rotation:

Standard (Clockwise)
Usually Ships Within: 1 Business Day
Comparison Shopping:
View Related Boat Propellers
Free Shipping!
Order now and save even more with NO shipping costs!

• UPS Ground shipping to lower 48 states only
• UPS does not ship to P.O. Boxes

About Solas Boat Propellers
RUBEX S3 Stainless Steel Boat Propellers
Solas Stainless Steel High Performance RUBEX Interchangeable Hub Propellers
Designed for Bassboats & Bayboats
Hubbed version of the Solas Scorpion propeller
Interchangeable with Flo-Torq & Vortex Systems
Reduce vibration to provide longer life to lower units
RUBEX Manufacturing Advantages
All SOLAS propellers are developed by a state of the art process. Through a sequence of theoretical calculations, geometry design, prototype testing, pilot production and field tests, SOLAS propellers are designed to meet customers' various requirements.
SOLAS Stainless Steel Propellers feature the industry's highest percentage of chromium, nickel, and molybdenum. Our material resists rust from salt water and increases the stability of the propeller blades. SOLAS Stainless Steel propellers are made by investment casting process.
SOLAS focus its production improvement efforts on efficient use of space, increased yield, first in first out processes and automated equipment (such as robotic dipping arms). We are constantly improving processes and striving even higher. Performance and durability are the characteristics of the SOLAS stainless steel products.
Reviews for Solas RUBEX S3 Propellers
| | | |
| --- | --- | --- |
| | | 83% (5) |
| | | 0% (0) |
| | | 16% (1) |
| | | 0% (0) |
| | | 0% (0) |
Scores shown are based on all Solas RUBEX S3 propeller reviews.
Propeller reviewed on

Aug 16th, 2020

Very satisfied. Better hole shot and good top end on my ZX 225 Skeeter with a 225 Yamaha V-MAX HPDI. Replace a 15 1/8 inch 23 pitch T1, with the Rubex (Scorpion) of same size. Noticed a slight reduction with the typical Yamaha 225 idle chatter, smoother shift and a nice smooth stable ride. I did have a little chine walk at top end (71 mph), but not sure if it was me not getting the right trim dialed in yet or the fact that I had minimal weight in the boat ( less than 10 gallons of fuel in my 50 gallon tank) . So far pleased with the results.


Propeller reviewed on

Nov 2nd, 2017

I am pleased with the quality and performance of my SS Rbx Scorpn S3 Prop. 4700 RPM and I'm doing 64.7 MPH.


Propeller reviewed on

Jun 14th, 2016

So I am writing not to say quality and delivery was s problem I'm concerned because when I went to product suggestion I chose the ser 26 and ran it one day changing everything as far as height and passenger load I only could get a decent run alone I forgot what I just bought and came back and ordered a 24 ballistic. Can I possibly return the 26 or get credit for a 28 semi cleaver for that is what I've now been told will be best for my set up. I hate to have 1000 $ in props and still no better than the stock 4 blade any help I'm running a GT 200 on a 20ft tunnel hull and loosing speed and bite each time. Thanks. Scott Foster propped out in Michigan


Propeller reviewed on

Apr 27th, 2016

Really nice well made prop looks great bolted right up super easy, my boat didn't quite have the horsepower to spin it actually slowed my boat down two mph, currently sitting on the shelf, would install again if I ever got and motor upgrades done


Propeller reviewed on

Jul 3rd, 2015

Great prop. Put it on my 200 pro xs merc.


Propeller reviewed on

Jul 30th, 2013

Thanks great product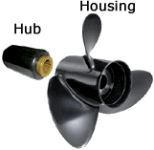 The Hub and Housing make a complete prop
This propeller requires two pieces: a propeller housing and a hub designed to fit your engine. In order for this propeller to work correctly, both parts are needed.
Please choose your engine using the Hub Selection Tool located below the "Add To Cart" button. When your engine is selected, the correct hub is included with your order.
If you do not wish to include a hub with your order or you already have the right hub, please select "No Hub"
Prices listed include both the housing and appropriate hub (if applicable)

The Hub Selection Tool finds the right hub for your propeller