Solas RUBEX L4 9573-153-18 Stainless Steel Boat Propeller

Representative Prop Photo Only

Propeller Specifications:
Part(s): #9573-153-18
Manufacturer: Solas
Brand:RUBEX L4
Material: Stainless Steel
Diameter: 15 - 1/4
Pitch: 18
Blades: 4
Rotation:

Standard (Clockwise)
Usually Ships Within: 1 Business Day
Comparison Shopping:
View Related Boat Propellers
Free Shipping!
Order now and save even more with NO shipping costs!

• UPS Ground shipping to lower 48 states only
• UPS does not ship to P.O. Boxes

About Solas Boat Propellers
RUBEX L4 Stainless Steel Boat Propellers
Four blade stainless steel propellers
Excellent cruising performance
Large diameter and blade area for big boat loads
Great high speed performance without sacrificing mid-range speeds
Excellent fuel economy for offshore boats
Solas Stainless Steel High Performance RUBEX Interchangeable Hub Propellers
Interchangeable with Flo-Torq & Vortex Systems
Reduce vibration to provide longer life to lower units
RUBEX Manufacturing Advantages
All SOLAS propellers are developed by a state of the art process. Through a sequence of theoretical calculations, geometry design, prototype testing, pilot production and field tests, SOLAS propellers are designed to meet customers' various requirements.
SOLAS Stainless Steel Propellers feature the industry's highest percentage of chromium, nickel, and molybdenum. Our material resists rust from salt water and increases the stability of the propeller blades. SOLAS Stainless Steel propellers are made by investment casting process.
SOLAS focus its production improvement efforts on efficient use of space, increased yield, first in first out processes and automated equipment (such as robotic dipping arms). We are constantly improving processes and striving even higher. Performance and durability are the characteristics of the SOLAS stainless steel products.
Reviews for Solas RUBEX L4 Propellers
| | | |
| --- | --- | --- |
| | | 60% (3) |
| | | 20% (1) |
| | | 0% (0) |
| | | 0% (0) |
| | | 20% (1) |
Scores shown are based on all Solas RUBEX L4 propeller reviews.
Specific Reviews are reviews for this exact propeller part number.
Other Reviews are reviews for similar Solas RUBEX L4 propellers.
Specific Reviews

Reviews for Solas Rubex L4 Blade Stainless 15.25" dia. X 18" pitch SR

Propeller reviewed on

Jun 26th, 2013

I have a 23ft Larson with a 250hp Volvo Penta out drive. I replaced the 3 blade aluminum 21 pitch with this 18p 4 blade ss. I have a large family and we regularly have 10 to 12 people on the boat. The improvement all around is incredible. This boat WAS the worst boat I have owned when it came to low speed handling. This prop was like installing a set of brakes and has made docking much more easier. Holeshot acceleration is greatly improved but the biggest difference is cruising acceleration as in from 15mph to 40 mph . I expected to lose top end performance but I actually gained 2 mph from 45 to 47 mph. For the life of me I don't understand why boats still come with aluminium Props.

Other Reviews

More Solas RUBEX L4 Propeller Reviews

Propeller reviewed on

Jan 21st, 2017

After much research we bought this Solas Rubex L4 Blade Stainless 15.25" dia. X 20" pitch prop to replace a stock Suzuki 16 X 21 3-blade prop on our 2015 DF200AP. This outboard has a 2.5:1 final gear ratio which explains why it can turn such a large prop. While researching this further I found I needed to go down to a 20 inch pitch because thats what you do when you add a blade - drop the pitch an inch. However the other variable (diameter) is harder to define. There isn't a lot of information out there on how changing diameter affects performance. Well now it's apparent to me that changing diameter has a definite impact - just like pitch does. Changing to a 4 blade and dropping pitch from 21P to 20P I expected similar wide open throttle (WOT) RPM between the 2 props. What we got was surprising. The smaller (by .75 inch) diameter resulted in WOT being too high now which set off my engine overspeed alarm every time I tried to achieve full throttle. Compared to previous performance readings this prop now allows the motor to rev up an additional 200-250 RPM. In other words, our 3 blade 25 mph cruise speed WAS achieved at 3900 RPM but now we have to run @ 4150 to achieve the same 25 mph cruise speed. Assuming the pitch change was correct (because we added a blade) this extra RPM must be the result of the Solas prop's smaller diameter. Unfortunately, we can't return it to iBoats now that we used it. Knowing what we know now we should have ordered the same 4 blade prop but in a higher pitch (22P) OR ordered a Suzuki 16 X 20 4 blade prop for $150 more. iBoats, if you're reading this please mention this issue in your "prop selection" area so future purchases will be more likely to be spot on. Pitch - and how it affects performance is dealt with nicely but there is no useful info on how diameter affects performance. This would be a nice addition to your "knowledge base" (hint-hint). All is not lost in our case as we are fortunate to have a qualified prop shop nearby. We brought the prop to them and explained our predicament. The prop guys first suggestion was to add more "cup" to the trailing edges of the 4 blades. We agreed and had the cupping done and the prop is back on the outboard ready for testing. We're hoping the extra cup brings the RPM's back down where we want them: 6000 RPM @ WOT without the overspeed alarm going off @ 6200 like it did without the cup added. Time will tell. If we are able to add to this comment after further testing I'll post the results. If not (and if you're still reading this) we'll post the results on our website: www.actionoutboards.com We took away one star for this lack of info which resulted in us ordering the wrong prop. Otherwise the propeller is nicely made and has a beautiful finish. We only wish it was offered in a 16 inch diameter to better fit what comes standard on Suzuki outboards nowadays and remove the diameter variable from the equation. The prop guy says Solas is the manufacturer for Suzuki's props so we're at a loss to explain why Solas says this prop is for our DF200AP when it doesn't match the diameter of the Suzuki brand prop and makes it harder to choose the correct one. At $400 each (without the hub) there isn't much room for economical trial-and-error testing. Hopefully our prop shop can make this one work for us but it shouldn't have to be this way. On a positive note: the extra blade did provide more stern lift and a better hole shot as well as better directional control in reverse (yes!) on our single engine boat. For those things we are thankful. Morale of the story: When you change diameter - add opposite pitch. Smaller diameter? Add an inch or more of pitch to your selection. Larger diameter? Subtract an inch of pitch. Hopefully this helps boaters select the perfect prop for their boat as the one that comes with the outboard isn't always the right match for the boat it's installed on. Dealers/Manufacturers take a guess and many boaters just accept the choice made for them and miss out on the perfect prop. Happy boating!


Propeller reviewed on

Oct 6th, 2016

1 out of 1 users found this review helpful

Think this is going to be a great prop for my boat. Running a 175 sf skeeter with a 175 hp merc. Prop gave the boat more lift, and improved handling. Had replaced old motor with newer motor was turning 6000 rpm with 25 inch three blade, changed prop to the L4 rpm now 5400. Hole shoot improved, top speed with 2 people gear is 62 mph by gps. Thanks I boats!!


Propeller reviewed on

Aug 13th, 2015

run great in waves to 5 footers great bite.


Propeller reviewed on

Jul 4th, 2013

prop was wrong , lost 6 miles per hour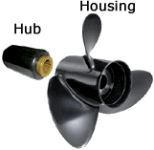 The Hub and Housing make a complete prop
This propeller requires two pieces: a propeller housing and a hub designed to fit your engine. In order for this propeller to work correctly, both parts are needed.
Please choose your engine using the Hub Selection Tool located below the "Add To Cart" button. When your engine is selected, the correct hub is included with your order.
If you do not wish to include a hub with your order or you already have the right hub, please select "No Hub"
Prices listed include both the housing and appropriate hub (if applicable)

The Hub Selection Tool finds the right hub for your propeller