Solas RUBEX 4 9513-143-19 Aluminum Boat Propeller

Representative Prop Photo Only

Propeller Specifications:
Part(s): #9513-143-19
Manufacturer: Solas
Brand:RUBEX 4
Material: Aluminum
Diameter: 14 - 3/10
Pitch: 19
Blades: 4
Rotation:

Standard (Clockwise)
Usually Ships Within: 1 Business Day
Comparison Shopping:
View Related Boat Propellers
Free Shipping!
Order now and save even more with NO shipping costs!

• UPS Ground shipping to lower 48 states only
• UPS does not ship to P.O. Boxes

About Solas Boat Propellers
RUBEX 4 Aluminum Boat Propellers
Exclusive Solas squeeze casting process
Wide blade design specifically for 4-stroke engines
Outstanding acceleration and top speed
Solas Aluminum High Performance RUBEX Interchangeable Hub Propellers
Interchangeable with Flo-Torq & Vortex Systems
SOLAS Coating
SOLAS aluminum propellers have 4 layers of paint.
Using superior coatings and a high-tech painting process ensures excellent anti-corrosion performance.
SOLAS aluminum propellers are exposed to over 500 hours of testing in a salt water spray tank.
This testing simulates more than 6 months of normal salt water use.
| | | |
| --- | --- | --- |
| | | 81% (95) |
| | | 12% (15) |
| | | 2% (3) |
| | | 2% (3) |
| | | 0% (1) |
Scores shown are based on all Solas RUBEX 4 propeller reviews.
Specific Reviews are reviews for this exact propeller part number.
Other Reviews are reviews for similar Solas RUBEX 4 propellers.
Not all Solas RUBEX 4 reviews may be shown on this page.
Click See All Reviews to view all Solas RUBEX 4 propeller reviews
Specific Reviews

Reviews for Solas Rubex 4 Blade Aluminum 14.25" dia. X 19" pitch SR

Propeller reviewed on

Dec 27th, 2020

Works well


Propeller reviewed on

Aug 22nd, 2020

Switch to the from a 3 blade 21 pitch to this 4 blade 19 pitch. 2012 stingray 208lr 4.3 mercruiser sterndrive. Hole shot and thrust is much better and much better handling but did cost me some top end speed and lose of some rpms. I should have stuck with 21 pitch but still happy with prop so far.


Propeller reviewed on

Nov 4th, 2019

After breaking a three blade stainless prop I went with this one to try it out .I couldn't be happier . Handling improved dramatically , boost planes ot quicker and I actually gained 3 mph top end instead of losing power


Propeller reviewed on

Jul 17th, 2017

The prop is very high quality and performed as described. Very pleased with product and great pricing!!


Propeller reviewed on

Jul 5th, 2017

This was a great purchase


Propeller reviewed on

May 29th, 2017

Did a lot of research and picked this Solas Rubex 4 blade prop. Installed it in less than 5 minutes and it works great.


Propeller reviewed on

Sep 13th, 2016

First time using a 4 blade prop. After reading many reviews I bought this prop and put it on a 1988 Sea Ray 21 ft. CC with a 4.3 liter power plant. Slight vibration at rev up, but the boat came up on plane quickly and steering was more responsive compared to the original factory spec 3 blade prop. The new hub adapter is also very interesting and appeared to be well made. Both the adapter and prop fit very nicely onto the out drive. Installation took about 20 minutes to swap out the old for the new.


Propeller reviewed on

Jun 27th, 2016

Purchased this prop for my Rinker 192 BR, mercuriser 4.3 6 cyl. Boat came with a 3 blade 14.25 x 21, producing 4750 rpm at about 44mph. I added a wake tower at same time as prop change, and tower is near 200#. Expected going to this 19 pitch, 4 blade would increase rpm by 150 to 200 (150 to 200 x2 for 2 inch pitch change, but one pitch change typically eaten up by adding 4th blade). What I have is now wot at 4650 rpm at about 43mph. Never expected rpm to go down. All listed numbers are driver only with full tank of gas, trimmed up. Plan is to get best hole shot for pulling ski/wake rider with 4people in boat. This prop change may have improved holes hot, but not dramatically, and boat barely gets me up on a slalom ski with 2 people in boat. I just ordered the same prop in a 17 pitch, confident that it would only over rev with one person and less fuel in tank. Hoping it will improve towing enough to satisfy my needs mentioned above. Will be crazy if I need to go to a 15 pitch! Nice quality prop, and hub assembled easily, will re use hub on new prop.


Propeller reviewed on

Jun 27th, 2016

I have two other Solas Amita props, one an Amita3, the other an Amita4. I loved them both so when I needed a back up prop for a new boat I ordered my fourth. Sad to say that this one vibrates like a cheap Chinese sex toy. It sends a discernible shimmy throughout my whole boat. I ordered this as a backup propeller for a fishing trip to Canada thinking the Rubex is the way to go with all the rocks where we fish. However, I went back to using my very expensive stainless prop because I didn't want loose fillings after days on end of wot trips to our favorite fishing spots. I gave it two stars because of my love for the Rubex system and previous good luck with Solas.


Propeller reviewed on

May 19th, 2016

I purchased this Solas four blade Prop for my 23 foot fiberglass deck boat with a 5.7 Liter V8 I had been using a three blade prop Previously but with the four blade prop the time to plane was unbelievably quick and the throttle response was improved as well! I would recommend this product for price and performance!!!


Propeller reviewed on

Sep 11th, 2015

I switched to this prop to increase my torque on my boat for towing and it greatly improved it for sure. Top end speed kinda scaled down but I don't normally go over 40 mph on my boat anyway.


Propeller reviewed on

Aug 31st, 2015

Quality parts and good prices. All items were received ahead of scheduled times. Very happy will use for more parts in the near future.


Propeller reviewed on

Aug 18th, 2014

The propeller they shipped to us has one blade that is longer than the others and is hitting my trim tab anode. I contacted iboats to have the propeller sent back to them and either get an exchanged item, or a refund. They told me it is the busy season and that it would take 3-4 weeks to get the issue resolved....like I want to be without my boat for 3-4 weeks during the prime boating season! Terrible customer service and exchange/refund policy!


Propeller reviewed on

Aug 14th, 2014

Works well with less vibration than a three blade.


Propeller reviewed on

Aug 13th, 2014

Fast shipping,and the best customer service I have had period!!!!!!


Propeller reviewed on

Aug 9th, 2014

What I expected, has worked well, good price.


Propeller reviewed on

Jul 29th, 2014

Excellent product, fit great and performed well. Used on 135hp mariner. Changed out the 3 blade to a 4 blade, biggest difference was how fast the boat planed out when loaded.


Propeller reviewed on

Jun 6th, 2014

I was deleverd as expected and was easy to install.


Propeller reviewed on

Oct 6th, 2013

good fit and finish and works well on my pontoon boat


Propeller reviewed on

Oct 6th, 2013

good fit and finish and works great on my pontoon boat


Propeller reviewed on

Aug 25th, 2013

Very please with purchase. Went from 3 blade mercruiser 19" prop with the same pitch 4 blade prop. Out of the hole really quick. Maybe lost a couple mph but not enough to effect performance. Used on a 21' Larson.


Propeller reviewed on

Aug 17th, 2013

I bought this to replace a solas 3blade 21 pitch that was on my boat when i purchasdd from previous iwner. Hit a stick in lake and broke the tips. Installed this prop which was an easy change for me since i am far from a mechanic and it is like a total different boat now. Jumps out of the water and on plane very quick unlike before. I have been on the busy lake with it 3x's and it performs as expected. Staff at iboats helped with the selection and shipped fast.


Propeller reviewed on

Aug 12th, 2013

I did a lot of research on props due to the fact that this is my first boat. I went from a 3 blade to the 4 blade Solas but stayed with a 19 inch pitch due to my research and talking with a cuple of Marinas apout pitch and boat owners with the same year and model of boat engine and weight and horsepower. I have a 185LS Bayliner w/a 130hp Merc. I went from plaining at 4000rpm to 3200rpm and can cruise the lake at 25-30 mph all day long on half a tank of gas. The Solas is a great prop no problems what so ever and would purchase one again more likely a 17pitch 4 blade just to check out the difference. I am maxing out at 4800rpm and have been told I should be maxing at 5800? I am happy with everything the prop the core the service of both iBoats their service. Everything was on time and I will be buying again soon. Thanks for a great site easy to find information and great products and great service.


Propeller reviewed on

Aug 4th, 2013

Works great. Boat is fast out of hole and gained top end. 5.7 merc. Alpha 1 20' Larson.


Propeller reviewed on

Apr 28th, 2013

good


Propeller reviewed on

Apr 23rd, 2013

This prop was a fantastic buy. Boat now has more jump and planes out immediately. chenged from a std 3 blade 21p to this 4 blade 19 pitch. huge difference in performwnce. don't know top end loss but insted of 4800 at wot in now get 4500 but the boat handles much better.


Propeller reviewed on

Jul 6th, 2012

geart prop very good hole shot


Propeller reviewed on

Jun 5th, 2012

This prop made a huge difference in getting the Marlin Empress on plane much faster and once there I can stay on plane with less throttle for cruising around the lake. Testing it pulling my out of the water as soon as the air temp rises a little more. I love the finish on it too.


Propeller reviewed on

Sep 17th, 2011

Bought a 186 SEI Larson with a 4.3 V6. It had a new 15x17 3 blade on it when I got it. Prior owner got it for wakeboarding and water sports, but it was waaaaaaay too small a prop. WOT rpm is spec'ed at 4600-4800. This thing wound to 5600 the one time I went upstairs with it. 35 mph tops in the right rpm range. Got the 4 blade 19 for wakeboarding, tubing, and heavy load boating. Even pulling a 250# guy out with 7 in the boat, it pops right up on plane. With a full load of 8 it runs right at 4600 and 45 mph. 2 Up it tickled 4900 and 51 mph or so. Just about the perfect prop for a full load and or watersports. The 3 blade would cavitate when really cranking a tube rider in a hard turn. This never blew out, even with the wheel cranked and full throttle. It would hold plane to the min speed the transducer would read, 15 mph. Never GPS'd it, but it would crawl along on plane nicely. Just a great watersports prop for this boat. If I ever damage it, I will be getting the same thing in a stainless to replace it.


Propeller reviewed on

Sep 16th, 2011

The propeller was delivered on time and well packaged. It was easy to installed and it came with some intructions. Great product. It sure made a difference on my boat.


Propeller reviewed on

Aug 29th, 2011

I purchased this 4 blade aluminum prop for my 20' Four Winn's with a 302 Ford motor. I have installed a SEI Outdrive and needed a new prop. This Solas prop was a great buy for the money and works great. It planes quickly and runs faster than the original 19" prop that was on the Cobra Outdrive. I recommend this prop to anyone looking for maximum performance and value.


Propeller reviewed on

Aug 3rd, 2011

I wish i put one on 10 years ago. The propeller is well made. The hub kit came complete and also well made. I love the performance, and the price was unbeatable...


Propeller reviewed on

Aug 2nd, 2011

The customer service at iboats explained how prop pitch worked with engine RPMs. This made my decision easy. The prop worked better than expected and they were the lowest price I could find.


Propeller reviewed on

Jun 10th, 2011

I put this prop on a 1991 cobra 5.0 outdrive, it planes out much quicker than the factory 3 blade and shifts and feels much smoother then factory. I'd buy this prop again if I meet another rock.

Other Reviews

More Solas RUBEX 4 Propeller Reviews

Propeller reviewed on

Aug 19th, 2020

Shellie at boats got back to me and provided all the info I needed. I used the online version of customer service and received a call with shipping notifications and due date.


Propeller reviewed on

Aug 19th, 2020

This was the worst experience ever!!! I would gladly speak to an overseas telemarketer for hours instead of dealing with BS customer(non) service at iBoats. Total HORSESHIT!!!!


Propeller reviewed on

Sep 24th, 2019

Prop works very good. The pontoon boat had a 3 blade, that was pretty beat up, and wow what a difference! Can really tell the difference when you punch the throttle. And it comes with the hub kit and thrust washers. A way better deal than anything I found out there. When I decide to buy a stainless, this will be where I go to order it.


Propeller reviewed on

Jul 31st, 2019

Prop was sent and received in a very timely manner. Box was wrapped in black plastic to keep it concealed. Everything was provided as described except for the tools of course. Prop looked very new and fitted perfectly. Performance is very strong. Had a three prop before and with this four prop it seems I have more power and speed performance. Thank You, iBoats


Propeller reviewed on

Sep 20th, 2018

My 3 blade prop was ventilating. The 4 blade cured that plus it steers better, trims better and is way smoother. Can't wait to try a 4 blade stainless!


Propeller reviewed on

Sep 12th, 2018

Bought a used boat with a Merc 3.0 alpha one. Was looking for a little more out of the hole performance. I got the four blade 17 pitch and it was like night and day. I am having a great time with my boat now. I would recommend this prop any day. As a note, the prop that was on the boat when i got it was a 21 pitch. Way too big for my boat. With this new prop i run at 4700 rpm and top end is a nice 38 mph according to my gauges. Finding and ordering through iboats.com was a breeze. I have since ordered several other products from them.


Propeller reviewed on

Jul 2nd, 2018

In all fairness this engine isn't strong enough for this boat. I am having trouble planing with 5 adults on board (USCG=capacity 10) thought I would try a 4 blade not enough improvement to switch. Tried boat with two and the engine over revved (6K +), I'm going back to a three blade.


Propeller reviewed on

Nov 20th, 2017

I have a stern drive and got this to help with lower end control and faster planing. Helped with both. This combined with the Nautics trim tabs help me get on plane almost instantly and I have better control at lower speeds with no bow drift left and right. I lost a couple mph on the top end. Worth it.


Propeller reviewed on

Sep 5th, 2017

good


Propeller reviewed on

Aug 26th, 2017

Prop worked great. Glad I went to a 4 blade. Definitely helped pulling people out of the hole. :)


Propeller reviewed on

Aug 24th, 2017

My boat planes off faster , seems to run as fast top end, and certainly handles better at docking speed than it did with the 19 pitch three blade prop that was on it when I bought it.


Propeller reviewed on

Aug 16th, 2017

Great prop. Does not come with hub. Great price


Propeller reviewed on

Aug 14th, 2017

This proper appears to be manufactured better than most products of its type. The finish is superb. The price could not be beat, especially as the hub and hardware was included. Super fast delivery


Propeller reviewed on

Jul 13th, 2017

I have a 21' bowrider with a 4.3 225 VP. It came with a 19p 3 blade which was fine for a light load on smooth water. This 17p 4 blade gives me the low end I need to pull a wakeboarder with a full boat. Also nice for quick throttle response while navigating rough water on the busy holiday weekends. Rubex hub s SMS to add a bit of cushion when shifting. Dropped my top end by about 5 mph but worth it when it need it. Easy enough to swap around depending on conditions.


Propeller reviewed on

Jul 6th, 2017

This time it was making contact with the zinc anode. Not sure why, but this one required clearance to avoid contact. Otherwise 5 stars.


Propeller reviewed on

Apr 28th, 2017

gets us up and able to plane at slower speeds for wakeboarding


Propeller reviewed on

Nov 21st, 2016

This prop is awesome gets the boat on plain faster. I didn't lose any top end speed. Not that that matters. The boat curses at about 25 mph most of the time. No issues with the install very easy!!! Would buy again!


Propeller reviewed on

Aug 31st, 2016

With a larger boat and no trim tabs this prop was a definite benefit over a 3-blade. I get great out of the whole propulsion and little lift in the stern to help at WOT. the boat turns hard and has still caught some air in a hard turn, but nothing to complain about. Handles great.


Propeller reviewed on

Aug 25th, 2016

Excellent service got the prop I needed within a couple of days. I will defiantly order more parts from here. Thanks


Propeller reviewed on

Aug 12th, 2016

good performance-- fixed my speed loss on cornering.


Propeller reviewed on

Aug 7th, 2016

Bought the 4 blade propeller and hub kit to replace my 3 blade. Everything works well. Was easy to install on my 2013 115hp Yamaha and runs very smoothly.


Propeller reviewed on

Aug 1st, 2016

I bought this for my carolina Skiff and it runs better with this prop.


Propeller reviewed on

Jul 22nd, 2016

Good: Very high quality product Hub kit is simple to install Great Value Bad Only that guidelines say for pitch change, 150 to 200 rpm per inch of pitch change, in addition to about 150 rpm drop when going from a 3 blade to a 4 blade This did not prove true for my situation. I have an 03 Rinker Captiva 192 (20 ft) with a Mercruiser 4.3L V6. I acquired the boat with a mercury 14.25 x 21 prop, with one person and full fuel I got 44mph at 4750 rpm (max suggested rpm is 5000). I am gearing down for towing skiers and boarders with people in the boat, Hole Shot is more important than top speed. I tried a Rubex 14.3 x 19 Four blade first, expecting to gain hole shot performance and increase full throttle RPM by 150 to 250 rpm. What I got was 43mph at 4650 rpm. Expected rpm to increase, but both speed and rpm dropped (boat loading almost the same, but I had just added a 200# wake tower, adding weight and a bit of wind drag). Expected RPM to increase, but it decreased and getting up on one ski with only 2 persons in the boat was difficult (lack of power on climb-out). Now I have this Rubex 14.5 x 17 Four blade, and what a difference! Hole-shot is dramatically quicker, nose comes down quickly, and getting up on one ski with 5 people in the boat is easy. Getting up on a wake board with 5 persons in the boat is instant! With only me in the boat and full fuel I get 41mph at 5200rpm (this speed is with GPS, the other speeds are with the old Petot tube speedometer, so I do not know how good this comparison is for speed) It is my hope to be able to ski and board with 7 people in the boat, and all indications are that this is the best prop for the job. I am extremely happy!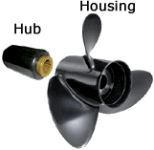 The Hub and Housing make a complete prop
This propeller requires two pieces: a propeller housing and a hub designed to fit your engine. In order for this propeller to work correctly, both parts are needed.
Please choose your engine using the Hub Selection Tool located below the "Add To Cart" button. When your engine is selected, the correct hub is included with your order.
If you do not wish to include a hub with your order or you already have the right hub, please select "No Hub"
Prices listed include both the housing and appropriate hub (if applicable)

The Hub Selection Tool finds the right hub for your propeller