Solas Amita 8613-143-19 Aluminum Boat Propeller

Representative Prop Photo Only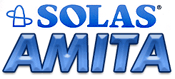 Propeller Specifications:
Part(s): #8613-143-19
Manufacturer: Solas
Brand:Amita
Material: Aluminum
Diameter: 14 - 1/4
Pitch: 19
Blades: 4
Rotation:

Standard (Clockwise)
Usually Ships Within: 1 Business Day
Comparison Shopping:
View Related Boat Propellers
Free Shipping!
Order now and save even more with NO shipping costs!

• UPS Ground shipping to lower 48 states only
• UPS does not ship to P.O. Boxes

iboats.com Best Seller
Great value & high performance make this a favorite.
Custom 1-piece prop built just for your engine.
About Solas Boat Propellers
Amita Aluminum Boat Propellers
High quality aluminum propeller.
Universal blade design to fit wide variety of applications.
Designed for outstanding acceleration and top speed.
Tough heavy duty rubber bushing smoothes shifting and won't slip.
Exclusive Solas squeeze casting process nearly eliminates porosity making our aluminum propellers stronger and tougher than traditional die cast propellers.
Solas aluminum propellers have 4 layers of paint applied using superior coatings and high-tech painting process to ensure excellent anti-corrosion performance.
Applications
Amita
propellers offers the best performance in these types of boats:
Outboard powered inflatable
Aluminum
Ski
Bass
Flats
Walleye
Offshore single and dual engine
Commercial
Pleasure
Runabout
Pontoon boats
Stern driven family cruisers
Runabouts
House boats
| | | |
| --- | --- | --- |
| | | 79% (1734) |
| | | 11% (253) |
| | | 2% (48) |
| | | 1% (25) |
| | | 5% (112) |
Scores shown are based on all Solas Amita propeller reviews.
Specific Reviews are reviews for this exact propeller part number.
Other Reviews are reviews for similar Solas Amita propellers.
Not all Solas Amita reviews may be shown on this page.
Click See All Reviews to view all Solas Amita propeller reviews
Specific Reviews

Reviews for Solas Amita 4 Blade Aluminum 14.25" dia. X 19" pitch SR

Propeller reviewed on

Jul 26th, 2018

Very nicely packaged. Took 5 mins to install. Went to the four blade from old 3 blade. Everything seems to run and drive smoother. Pops boat on plane faster and pulls a two person tube much easier. Engine does rev a little higher but that was expected since I also went down to a 19 from 21 pitch.


Propeller reviewed on

Jul 24th, 2018

Love the four blade. Smoother, quieter and great out of the hole power.


Propeller reviewed on

Jun 21st, 2018

2nd time out the hub slipped. I marked it to see and the marks didnt line up after the 3rd run. Slight scuff marks from driftwood so Im not even going to waste time trying to return. I have had Quicksilver props that have accidentally been buried and they never slipped even after years of use.


Propeller reviewed on

Jul 31st, 2017

I replaced the 3 blade OEM 14.5"x19" with this aftermarket 4 blade prop hoping to get a better dig out of the water to get skiers up quicker. NO complaints in this regard. noticeable difference first time out. bonus of a four blade prop, boat actually rides a little smoother just cruising to. I did notice that their is a slight drop in top end speed, but really how often to you go wide open throttle anyway. seems that the RPM's are down a little bit to hit same ski speed, more efficient in the power band. I would definitely say save your money on OEM and buy this. less then half the cost of OEM, High Quality. can't beat that combination.


Propeller reviewed on

May 20th, 2016

So far the ride is good and smooth. Only had it on for a few days. Quality is great for the price and I would definitely recommend. Iboats price and service was excellent. Definitely recommend.


Propeller reviewed on

Apr 24th, 2016

Very Fast and promt delievery ,, very satisfed


Propeller reviewed on

Mar 2nd, 2016

We received this in a day and went from a 3 blade to a four blade and found this to be a huge difference in performance! Thank you!


Propeller reviewed on

Dec 30th, 2015

clicked on merc 14.25 x 19 4blade and was sent a penta-volvo


Propeller reviewed on

Sep 28th, 2015

Great Price Fast Ship


Propeller reviewed on

Aug 22nd, 2015

Excellent quality, fast shipping, great price. No complaints here.


Propeller reviewed on

Aug 19th, 2015

We got this super fast and the prop was better than expected. We went from a 3 blade to a 4 blade and it really makes a huge difference at take off. Thank you for a quality product at a great price and getting it to us super fast!


Propeller reviewed on

Aug 15th, 2015

3 out of 3 users found this review helpful

I'm driving a Four Winns H170 with the 3.0L 135 hp Volvo Penta i/o. Switched from an OEM 3 blade 14.25 x 21 prop to the 4 blade 14.25 x 19 Solas. We did baseline tests with the old prop then switched and retested. Almost 1.5 sec faster to plane, and improved performace to all speeds we base tested. It seems to hold plane to a slightly lower speed when decelerating, but the difference is negligible. Top speed decreased by 1 kph, and feels slighly "looser" when turning. The midrange acceleration is vastly improved from the old prop, and mid speed cruising feels much more stable. Time to get a skier on plane is improved, and while pulling the skier, the engine feels like it's not working as hard as it did with the 3 blade. This was a great purchase for us, as we run in the upper midrange much more than we do flat out.


Propeller reviewed on

May 25th, 2015

prop was perfect, improved the performance of my Regal significantly.


Propeller reviewed on

Aug 4th, 2014

Was running a OEM Volvo prop 14x21 3 blade on my Volvo Penta 5.0, 19 foot Monterey. Had horrible hole shot, but great top speed. Switched to the Solas 14x19 4 blade and performance was better all around. RPM increased a little and I maybe dropped about 2 or 3 mph, but hole shot was half the time. Boat performs 100% better. Still have a good tops speed at about 47mph with 5 adults in boat. Great buy for $120, worth a try.


Propeller reviewed on

Aug 12th, 2013

I don't have any experience with more expensive stainless props but have used a few other 3 blade props. I can tell you this one really performs great. Good thrust and planes quicker and also stays on plane at a lower speed. It does wander a little more when going at idle speed though. Overall a good quality prop at a great price.


Propeller reviewed on

Aug 3rd, 2013

Just as advertised, plus they had a special on shipping when I bought it, so is came home super quick. I would definitely recommend this product.


Propeller reviewed on

Jul 12th, 2013

Fit and finish are terrific as expected. Performance is as advertised and not fully realized until put to the test. Overall purchase experience was excellent!! Thank You!


Propeller reviewed on

Jul 12th, 2013

As advertized


Propeller reviewed on

Jun 13th, 2013

Expectations were met with my prop order, I would buy again from iboats.com.


Propeller reviewed on

Aug 13th, 2012

Very happy with product, great bang for the buck. Shipping to Canada was quick!!


Propeller reviewed on

Aug 12th, 2012

Prop works great. Quick install and shipping.


Propeller reviewed on

May 1st, 2012

2 out of 2 users found this review helpful

I bought the 14.25x19 a little while ago, was running a 14.3x21 3 blade before, and my 20' Glastron pops right out of the water. I don't have specifics but it is literally half the time to get out of the hole which will be perfect for our water sports. All in all I am very happy with my $100 prop, which likely will be beat up given low water levels in MN right now. I would much rather replace a prop for $100 than a whole O motor. If you are on the fence get it. WOT rpms were right at 4600 with my 06 Volvo Penta 5.0 l SX says that it should be right in the 4500-4800 range. So spot on.


Propeller reviewed on

Aug 8th, 2011

if you're on a budget this is for you


Propeller reviewed on

Aug 5th, 2011

This is the second prop i have bought and works perfect. Easy to install and an awesome upgrade Boat definitely gets up on plane much quicker with more power now. Seems to be balanced well no vibration and great performance.


Propeller reviewed on

Aug 5th, 2011

This is the first prop i have ever bought and installed. Thanks to iboats i got the right prop for my drive and it works perfectly. Does not vibrate and performs great. Super easy to put on and an easy upgrade to my stock prop.


Propeller reviewed on

Aug 4th, 2011

excellant prop


Propeller reviewed on

Jul 26th, 2011

1 out of 1 users found this review helpful

I have had the original prop on my Larson Senza 186 since I bought the boat about 6 years ago. It was a three blade 14.3 x 21" pitch. I had been having trouble with the hole shot but just thought it was something I was doing wrong. Three weeks ago, I finally got a major ding in the prop which prompted me to go searching for a replacement. I liked what the four blade props promoted so I ordered one. This one was a perfect replacement with lots of benefits over the original: 1) time to plane in less than 2.5 seconds with three people (previous prop was about 5 seconds) 2) Able to maintain planing at 16 mph (previous prop was about 19 mph) 3) WOT was 4400 rpm with 46 mph (manufacturer recommends WOT 4400 rpm to 4800 rpm). Since I was exploring configuration patterns, I tried the 14.5 x 17" pitch. It let me over-rev and seemed a bit squirrely with a heavy load. I am suspecting a flexing in the blades. My next prop to try will be this 14.25 x 19" in stainless steel. Thank you for this opportunity to give my opinion.


Propeller reviewed on

Jul 22nd, 2011

Went on easy and performs well


Propeller reviewed on

Jul 16th, 2011

1 out of 1 users found this review helpful

excellent prop, big improvement on hole shot, top end didnt sacrifice GPS at 53 mph, running on four winns 190 with 5.0


Propeller reviewed on

Jul 5th, 2011

1 out of 1 users found this review helpful

Much Better "holeshot" ~ 1/2 the time to yank a skier up. Used to be 4 - 5 seconds before skier starts coming up, now 2-3 secs and more stable. Better Tube towing performance. Still too low an RPM on the motor, but not the props fault, but in our case we may need a lower pitch for 1300 Lb loaded boat. Low speed handling was the same as the original 3 Blade. Old prop was a 14.25x23, Alum 3 blade. More data to come this weekend with a lighter load in the boat. Price and Fit was excellent, quality and delivery was good.


Propeller reviewed on

Jun 27th, 2009

1 out of 1 users found this review helpful

Runs much smoother than the 3 blade I had on my '03 Larson 180. I don't notice it being any thicker than a stainless steel prop and it's obviously a much lighter prop, which spins up faster. I also get on plane about 2-3 mph quicker.

Other Reviews

More Solas Amita Propeller Reviews

Propeller reviewed on

Aug 1st, 2021

It's perfect, just like the previous prop I ordered from you.


Propeller reviewed on

Aug 1st, 2021

I run a shallow river sand and rocks. For the price of this prop can't beat it. Iboats is where to shop.They have taken care of me over the years.


Propeller reviewed on

May 17th, 2021

Quick shipping and perfect fit 5 stars.


Propeller reviewed on

May 17th, 2021

Solas prop is my go to prop, have never had anything but excellent performance from them. Iboat.com provides fast hastle free service and quick delivery, keeping me up and running.


Propeller reviewed on

Apr 25th, 2021

Prop was a perfect match to my oem prop. Fast shipping and easy process.


Propeller reviewed on

Apr 13th, 2021

I have not used it yet, but so far so good. Also you should know that the brass washer that was included does not fit the Prop. The shoulder is too small. That has been the case with all 3 props that I have bought from your company. Jim Hogan 360-909-9912


Propeller reviewed on

Apr 4th, 2021

works well


Propeller reviewed on

Mar 27th, 2021

Had trouble with porpoising with my 3 blade, 19 pitch SS prop and went to this 4 blade aluminum and problem solved!


Propeller reviewed on

Mar 14th, 2021

Fast service perfect fit


Propeller reviewed on

Mar 10th, 2021

My honest mistake. My old prop says 14x17, I search and only prop I find is 14...x17. I immediately see it is too large. No service said to take photos. In the light the photo picks up glare. No service says I damaged the prop, no return. Finally supervisor says send it back. No service says it may take 30 to give an answer. 2 weeks later, no answer from no service. Many friendly boat companies to buy.


Propeller reviewed on

Feb 14th, 2021

Service was good, received ordered product promptly. Haven't put on boat due to weather.


Propeller reviewed on

Feb 13th, 2021

Blades are small than original, but very nice product.


Propeller reviewed on

Feb 9th, 2021

So this might be a duplicate. I have used prop on 3 duck hunting trips and it seems to be working fine.


Propeller reviewed on

Feb 3rd, 2021

Should work great


Propeller reviewed on

Jan 17th, 2021

Great price for a basic 3-blade Aluminum prop.Hard to find pitch was available, in stock, delivered quickly. Looks great but waiting for warmer weather to install.


Propeller reviewed on

Jan 3rd, 2021

My old prop spun on my johnson Seahorse 70, this one works great.


Propeller reviewed on

Dec 26th, 2020

It fit on my motor like a glove. Ran as designed.


Propeller reviewed on

Dec 19th, 2020

I like the Solas Amita prop. It works well and is easy to install. Performs well on my boat. Arrived in about 4 days. Transaction was easy and flawless. IBoats web site is easy way to find prop that fits boat motor.


Propeller reviewed on

Dec 17th, 2020

I have owned and used several solas props. have two Solas Amita props that I use on 150 hp evinrude V6. 17 and 19 pitch by 15.5 diameter. Both props work well and fit great depending on the boat load and what I am doing I will use one or the other. Shipping was very fast. I have bought several items from iboats and have always been satisfied.


Propeller reviewed on

Nov 18th, 2020

Propeller is as expected. My only disappointment was that I had to reuse the cotter pin. Would have nice If a new one was provided as well as the other parts such as spacer, nut etc.


Propeller reviewed on

Nov 18th, 2020

Fast shipping, great price


Propeller reviewed on

Nov 16th, 2020

Order placed on Friday 13th and delivery date is the 18th????


Propeller reviewed on

Oct 31st, 2020

I've got a 16'x54" Jon boat gets on top fast like I need made it turn a lot better lost 1.5 mph on top end but It does good


Propeller reviewed on

Oct 19th, 2020

good job


Propeller reviewed on

Oct 16th, 2020

I bought this prop to replace 23 pitch three blade aluminum on a 22 foot Bayliner with 5.7L inboard. It made a huge difference in acceleration and I actually picked up about 8mph of top speed, which I was expecting to lose 2-3mph.


Propeller reviewed on

Oct 15th, 2020

Very nice product fast shipping and reasonable prices. Highly recommended.


Propeller reviewed on

Oct 14th, 2020

I learned the hard way about buying a prop online from iBOATS....their policy once the prop touches the water no return, no allowance, no swap is available. The prop did not perform even close to expectation, but I had no way of knowing that with out trying it. Let the buyer beware.


Propeller reviewed on

Oct 10th, 2020

The website said it would fit my motor but when I went to install it, it was to short.


Propeller reviewed on

Oct 7th, 2020

Worked perfect no issues got me back on the water


Propeller reviewed on

Oct 7th, 2020

Perfect. It slipped right on and off we went. 👍👍