Signature Propellers Four By 4 T24L4DS Stainless Steel Boat Propeller

Representative Prop Photo Only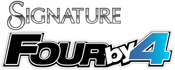 Propeller Specifications:
Part(s): #T24L4DS
Manufacturer: Signature Propellers
Brand:Four By 4
Material: Stainless Steel
Diameter: 15 - 1/2
Pitch: 24
Blades: 4
Rotation:

Counter (Counter-Clockwise)
Usually Ships Within: Business Day
Comparison Shopping:
View Related Boat Propellers
Front Propeller is positioned closest to the boat.
About Signature Propellers Boat Propellers
Four By 4 Stainless Steel Boat Propellers
Polished Stainless Steel Finish
Cupped blades
Solid Hub Design
Performance Improvements:
The
Four By 4
is the ultimate combination of eight blades. Designed to work on the Bravo III, Yanmar ZT350 and Mercruiser Zeus drives,
Signature Propellers
twin four blade propeller are so efficient they blow the competition out of the water.
Stunning top end performance
Exceptional handling and maneuverability
Increased planing off time
Virtually no cavitation in turning
Increased performance and throttle response in the midrange