Solas Titan
#1441-133-19

Stainless Steel Boat Propeller Sea Ray 65 HP Outboard Thru 1971 Model 650, 2-Cyl.

Representative Prop Photo Only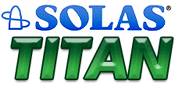 Propeller Specifications:
Part(s): #1441-133-19
Manufacturer: Solas
Brand:Titan
Material: Stainless Steel
Diameter: 13 - 1/4
Pitch: 19
Blades: 3
Rotation:

Standard (Clockwise)
Usually Ships Within: 1 Business Day
Prop Hardware: All required propeller hardware may not be available. Consult engine manual for hardware requirements.
Must use
#12-835467Q01
Mercury Flo-Torq Thrust Washer or Solas Thrust Washer METW
**Attention** To correctly add the Trim Tab or Thrust Washer to your cart, please do the following:

1) Add the prop to your cart by clicking on Add to Cart
2) Click on the above links to find the appropriate Trim Tab or Thrust Washer to add to your cart
3) In the case you need both a Trim Tab and Thrust Washer you will need to repeat step 2, once for each part. You may have to use your browser's 'Back' button to return to this page. Your Shopping Cart will not be lost.
Free Shipping!
Order now and save even more with NO shipping costs!

• UPS Ground shipping to lower 48 states only
• UPS does not ship to P.O. Boxes

Act Now – While Supplies Last!
These propellers are flying off the shelf fast!
Don't miss the chance to save on your new prop.
About Solas Boat Propellers
Titan Stainless Steel Boat Propellers
High Power, 3-blade stainless steel propeller.
High camber blade and larger blade area design.
Fuel efficient and more power.
Better acceleration and lift.
Tough heavy duty rubber bushing smoothes shifting and won't slip.
Solas stainless steel propellers feature the industries highest percentage of chromium, nickel and molybdenum materials to resist rust from salt water and increase the stability of the propeller blades.
Applications
Titan
propellers offer the best performance in:
Outboard powered Aluminum
Outboard Ski Boats
Offshore single and dual engine
Pleasure Boats
Runabouts
Sterndrive Family Cruisers
Cruisers
Pontoon Boats
Houseboats