Michigan Wheel Michigan Match 073008 Stainless Steel Boat Propeller

Representative Prop Photo Only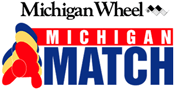 Propeller Specifications:
Part(s): #073008
Manufacturer: Michigan Wheel
Brand:Michigan Match
Material: Stainless Steel
Diameter: 13 - 1/4
Pitch: 17
Blades: 3
Rotation:

Standard (Clockwise)
Usually Ships Within: Business Day
Comparison Shopping:
View Related Boat Propellers
About Michigan Wheel Boat Propellers
Michigan Match Stainless Steel Boat Propellers
Naval brass spindle
Rubber cushioned hub (Absorbs impact and the stress caused by shifting gears)
Rubber bushing (Designed to spin free under significant impact, protecting you lower unit)
Costs less
100 years of propeller making experience
Limited lifetime warranty
It fits like your old prop.
It performs better than your old prop.
It costs less than your old prop.
And it's backed by a limited lifetime warranty.
Michigan Wheel has been making props for almost 100 years, longer than some OEMs have been making motors. Thousands of dealers across the country and around the world sell Michigan Wheel props, offering unrivaled inventory of replacement stock, ready for immediate delivery. Every prop is thoroughly inspected to make certain it meets rigid quality standards. This 100 year commitment to quality and performance is the reason more boat owners pick a Michigan Wheel replacement propeller than all other brands combined.
The highest-grade 15-5 stainless steel alloy is used on Michigan Match propellers. The tighter grain and compact molecular structure of the metal in Michigan Match props make them far less brittle, far less likely to break. It also makes them easily repairable by a qualified repair facility.
Reviews for Michigan Wheel Michigan Match Propellers
| | | |
| --- | --- | --- |
| | | 75% (3) |
| | | 0% (0) |
| | | 0% (0) |
| | | 25% (1) |
| | | 0% (0) |
Scores shown are based on all Michigan Wheel Michigan Match Stainless Steel propeller reviews.
Propeller reviewed on

Aug 30th, 2011

everything is a 100%


Propeller reviewed on

Aug 19th, 2011

I know it says not to leave comments about, Iboats.com or the shipping partners, but, when somebody is going to buy something, everything matters. Great prop, it's my second Michigan, works great!!! The service, awesome!!! Right on time, not complain at all. I will keep buying from iboats.com, great service and great price, as well.


Propeller reviewed on

Jun 29th, 2011

1 out of 1 users found this review helpful

Very nice prop. Very good price, and excellent delivery time. Thanks iboats.


Propeller reviewed on

Jun 18th, 2011

As stated in the title when prop sets on trust washer the Outer edge of prop rubs on the edge and doesn't spin freely Due to rub. Have to space out not to rub edge. Performance Wise, for the same pitch as original it burns prop way to easy And doesn't pull from 2500-4000 rpm. Can't cruise at 3000rpm like Before, has to be at 4000 and the noise is to much on my outboard, So gonna keep for a spare and straighten out my original aluminum prop...