Evinrude Johnson Viper
#763919

Stainless Steel Boat Propeller Johnson 150 HP Outboard 1978 - 1990 V6

Representative Prop Photo Only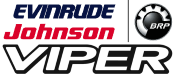 Propeller Specifications:
Part(s): #763919
Manufacturer: Evinrude Johnson
Brand:Viper
Material: Stainless Steel
Diameter: 14 - 3/4
Pitch: 19
Blades: 3
Rotation:

Counter (Counter-Clockwise)
Usually Ships Within: Business Day
About Evinrude Johnson Boat Propellers
Viper Stainless Steel Boat Propellers
If you want speed, you want the Viper prop.

Its longer swept blades and a larger diameter give this prop a better grip on the water faster acceleration, and greater top end speed.

Excellent on any recreational boat, from runabouts and cruisers to deck boats.


Versatile 3-blade performance
Custom high luster finish
Balance of speed and durability
V4 & V6 engines