Evinrude Johnson RX4 177323 Stainless Steel Boat Propeller

Representative Prop Photo Only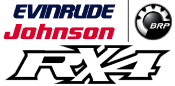 Propeller Specifications:
Part(s): #177323
Manufacturer: Evinrude Johnson
Brand:RX4
Material: Stainless Steel
Diameter: 15
Pitch: 20
Blades: 4
Rotation:

Counter (Counter-Clockwise)
Usually Ships Within: Business Day
Comparison Shopping:
View Related Boat Propellers
About Evinrude Johnson Boat Propellers
RX4 Stainless Steel Boat Propellers
The RX4 is a no compromises 4 blade propeller.

RX4 masters the power curve of the Evinrude® E-TEC® G2™ engine.

It is optimized for traction and rough water performance with industry leading speed, acceleration, and fuel economy.

It delivers superior bow lift on larger boats and does not slip in turns.

Variable Vent Porting allows you to custom tune acceleration power of the RX4 or Raker H.O. propeller.

By adjusting the opening of the vent ports, you can change the amount of bite the propeller has on acceleration.


V.V.P. Variable Vent Porting
Every propeller is hand finished and precision gauged for quality and consistency.
Available in right hand rotation sizes 16, 18, 20, 22, 24, 25 and 26 pitch.
Available in left hand rotation sizes 16, 18, 20, 22, 24 pitch.